wednesday, february 28,
2007
filthy lucre
The more serious Hillary gets about moving back into the White House (hey, maybe the Clintons will return some of the silverware they pilfered), the more we are reminded how scummy they were in their first tour.
Six years ago, the launch of Hillary Clinton's career in the US Senate was marred by allegations that her brothers had received payments from people pardoned by President Bill Clinton in the waning months of his presidency.

Now, in the wake of the launch of her presidential campaign, the pardon controversy has reemerged in an obscure court case in which Senator Clinton's brother Tony is battling an order to repay more than $100,000 he received from a couple pardoned by President Clinton.

Tony Rodham, who acknowledged approaching the president about a pardon for the couple, is the second of Hillary Clinton's brothers to receive money from people who were eventually pardoned by President Clinton. Hugh Rodham received $400,000 from two people, one of whom was pardoned and one whose sentence was commuted.
Meanwhile, Bill Clinton has been cleaning up as a ex-president:
Former president Bill Clinton, who came to the White House with modest means and left deeply in debt, has collected nearly $40 million in speaking fees over the past six years, according to interviews and financial disclosure statements filed by his wife, Sen. Hillary Rodham Clinton (D-N.Y.)..

...

Many of Bill Clinton's six-figure speeches have been made to companies whose employees and political action committees have been among Hillary Clinton's top backers in her Senate campaigns. The New York investment giant Goldman Sachs paid him $650,000 for four speeches in recent years. Its employees and PAC have given her $270,000 since 2000 -- putting it second on the list of her most generous political patrons.

The banking firm Citigroup, whose employees and PAC have been Hillary Clinton's top source of campaign donations, with more than $320,000, paid her husband $250,000 for a speech in France in 2004. Last year, it committed $5.5 million for Clinton's Global Initiative to help encourage entrepreneurship and financial education among the poor.

Asked about the companies and their relationship to the Clintons, Jay Carson, a spokesman for the former president, said, "It certainly makes sense that reputable New York companies who support the policies and works of President Clinton and his foundation would also be supportive of their senator."
Of course, donating to Bill is a nice legal way to defeat the intent of campaign finance laws.
living the surge
Mohammed at Iraq the Model writes about Baghdad's ups and downs:
It's been less than two weeks since the Baghdad operation was officially launched. This period, though short, has been full of events; both good and bad ones.

Here we are not in a rush to judge the operation unlike some media or politicians who seek anything they can use to serve their agendas. We, Baghdadis, only want this operation to succeed and we still have some patience to show.

These days I make sure that I have daily tour in Baghdad, covering both Karkh and Resafa (west and east) and these tours aren't exactly boring because there are always new things to see.

The buildup of troops in the capital seems to be incremental and increasing by the day giving a steadily growing sense of the seriousness of the operation. Yesterday during my tour with some friends we were stopped to be searched seven times during about only two hours; five times in Karkh and two in Resafa. The search typically includes verifying the vehicle registration papers, looking for guns and munitions or suspicious objects, destination of the passenger/driver and often their identity cards. In general the security personnel are polite in their dealing with people they search and some of them even end the procedure with an apology for the inconvenience.

We are getting used to the procedures at checkpoints; keep your hands visible on the wheel, keep your papers close to you, prepare to open the trunk and if it's getting dark then turn the headlights off and turn the reading light on.

I hear a lot from people how they want to see checkpoint search each and every vehicle on the street even their own because we know that the more effective checkpoints are the more secure the city would be.

...

The best part of the results remains the return of displaced families to their homes; the latest count for this shows that more than 600 families have returned so far.

While the return went with little problems for most families some forty families are complaining about receiving new threats from terrorists immediately after they returned to al-Adl district.

More occupied mosques are also being returned to their original keepers and earlier today Sunni and Shia worshippers gathered to hold joint prayers in several places in Baghdad as we saw on TV.

Last week, Maliki made his first public appearance on the streets of Baghdad when he visited the area of Palestine Street in Resafa the day that followed the bombings in the New Baghdad district. The same day general Aboud Qanbar, the commander of the operation walked in Haifa Street.

These public appearances are apparently part of a PR campaign to show that senior officials are not afraid of leaving the green zone anymore, and frankly this has left a good impression among the public.
the more things change...
From American Digest:
"An alarmist correspondent recently wrote to a daily paper foretelling the collapse of the earth by reason of the constant drawing out of her vital fluid in the shape of -- oil! According to the writer, the interior of the earth is liquid oil, and if this is drawn out the outside crust must give way.

Each country should pass a law constituting it a criminal offence to draw a drop of liquid oil out of the earth. In his imagination he sees cities and towns engulfed in vast chasms, and mountains shifted from their bases, while millions of human beings, old, young, rich, and poor, each with their different lamps, are marching on to destruction, sitting by their funeral pyre, the burning lamp, while smoke, fire, darkness, horror, confusion, cover the face of all things. " -- How Will the World End? by Herbert C. Fyfe. From Pearson's Magazine, July 1900
no more doubting thomas
The late Sen. Daniel Patrick Moynihan said that you are entitled to your own opinion but not to your own facts. Many on the political left, however, act as if they are entitled to their own facts — and especially the "fact" that those who oppose their ideas are either intellectually or morally inferior.

In other words, you cannot oppose "diversity," gun control, global warming or gay marriage unless there's something wrong with you. No hard evidence is necessary to support this conclusion. Indeed, no hard evidence can change this conviction.

No one has been denigrated and demonized by this mind-set more than Supreme Court Justice Clarence Thomas. The charge has been endlessly repeated that he is "not qualified" — with no evidence being offered or asked for.

His outstanding academic record in college, his graduation from one of the top law schools in the country, his experience as an attorney both in government and in the corporate world, his years of heading a federal agency and his service as a judge on the most influential federal circuit court in the country count for nothing, as far as the left is concerned.

Many, if not most, Supreme Court justices have not had as good a record of qualifications. But Thomas is considered "unqualified" because those on the left cannot accept his qualifications without a major shock to their whole vision of the world — and of themselves.

A recent book on the Supreme Court in general has a chapter on Thomas that devastates what has been said about him in the media. That book is "Supreme Conflict" by Jan Crawford Greenburg.

What will come as a shock to many who read this book is that the picture of Thomas as a blind follower of Justice Antonin Scalia, with whom he often votes, is completely different from the reality.

Notes made by Justice Harry Blackmun during discussions of issues among the justices make it clear that from day one Thomas staked out his own position on issues, even when all eight of his senior colleagues took the opposite position.

Often it was Thomas whose arguments won over Scalia and Chief Justice Rehnquist — and sometimes enough others for a majority.
Indeed, in Clarence Thomas first case as a justice, after his bruising confirmation hearings (the politics of attempted personal destruction) Thomas cast the sole nay vote in conference. Then he wrote his dissent. As it was read by his fellow justices, two changed their positions, Scalia and Renhquist.
what did you learn in college today, farouz?
We learned that Tom & Jerry cartoons were part of a Jewish conspiracy.
Before we get too smug, remember our universities are littered with such intellectual detritus as Ward Churchill and Noam Chomsky. Littered? Heck, many of their ilk are running the universities.
tuesday, february 27,
2007
who is greener, bush or gore?
...is it possible that George Bush is a secret Green? Evidently his Crawford Winter White House has 25,000 gallons of rainwater storage, gray water collection from sinks and showers for irrigation, passive solar, geothermal heating and cooling. "By marketplace standards, the house is startlingly small," says David Heymann, the architect of the 4,000-square-foot home. "Clients of similar ilk are building 16-to-20,000-square-foot houses."

Furthermore for thermal mass the walls are clad in "discards of a local stone called Leuders limestone, which is quarried in the area. The 12-to-18-inch-thick stone has a mix of colors on the top and bottom, with a cream- colored center that most people want. "They cut the top and bottom of it off because nobody really wants it," Heymann says. "So we bought all this throwaway stone. It's fabulous. It's got great color and it is relatively inexpensive."
So George and Laura manage to get by with 4000 square feet. Saint Albert and Tipper live in 10,000 square feet and burn as much energy in one month as the average Tennessean burns in a year.
And who is more generous, Dick and Lynne Cheney or Al and Tipper Gore?
The Cheneys in 2006 donated $6.8 million
The Gores in 1997 donated $353
the truth? you can't handle the truth!
Al Gore's tent-revival meeting movie was promoted with a poster linking smokestacks with hurricanes, cashing in on a cyclical spate of killer hurricanes. And, just as frigid temperatures seem to manifest whenever Gore comes to town ("The Gore Effect"), last year was a very quiet hurricane season.
Still, let's go to the science:
Chris Landsea, science and operations director of the National Hurricane Center in Miami, said the notion that global warming is causing an increase in hurricanes gained widespread attention after the stormy seasons of 2004 and 2005.

But that perception is wrong and the statistics don't bear it out, Landsea told about 200 students and professors in the auditorium at USC's geography building.

Further study continues to show that hurricane activity occurs in cycles of 20 to 45 years, he said. Even though the seasons of 2004, when four hurricanes bashed Florida, and 2005, when Katrina devastated New Orleans and neighboring parts of the Gulf Coast, seemed shocking, they were no more intense than some storms in the early part of the 20th century and in the 1930s, Landsea said.

The 1926-1935 period was worse for hurricanes than the past 10 years and 1900-1905 was almost as bad, he said. So it is not true that there is a trend of more and stronger hurricanes.

"It's not a trend, it's a cycle: 20-45 years quiet, 20-45 years busy," Landsea said. Scientists currently have no idea what causes the time period.
meanwhile, al gore heads to broadway with "gorespell"
...and Maggie's Farm has the scoop and lyrics.
We've got an exclusive peek at Al Gore's next infotainment triumph. Al's taking his tent meeting onto the groaning floorboards of Broadway with his gospels according to, well... himself, I guess: Gorespell!

Sing along with Al:

-Day by day
-Day by day
-Oh Dear Al
-Three things I pray
-To see thee more clearly (You're getting global looking yourself)
-Love thee more dearly (Dear Leader of our cult)
-Follow thee more nearly (In a private jet all the way, baby)
-Day by day

-Day by day
-Day by day
-Oh Dear Al
-Three things I pray
-To discount the temperature variation trend inferred from δ18O of peat cellulose in a peat core from Hongyuan (eastern Qinghai–Tibet plateau, southwestern China) more clearly
-Love thee by offsetting your carbon emissions by paying someone else to plant on a tree on your behalf every time you breathe or drive your car more dearly
-Ignore the effect of diurnal correction on satellite-derived lower tropospheric temperature more completely
-Day by day
and what do god's messengers think?
The Reverend Jerry Falwell says global warming is "Satan's attempt to redirect the church's primary focus" from evangelism to environmentalism.

Falwell told his Baptist congregation in Lynchburg yesterday that "the jury is still out" on whether humans are causing -- or could stop -- global warming.But he said some "naive Christian leaders" are being "duped" by arguments like those presented in former Vice President Al Gore's documentary "An Inconvenient Truth. Falwell says the documentary should have been titled "A Convenient Untruth."
While it's tempting to scoff at Falwell for dragging satan into this, is it any worse that the precious piety of the Presiding Bishop of the Episcopal Church, Katharine Jefferts Schori?
... Episcopalians tend to be better educated and tend to reproduce at lower rates than other denominations.
No more "be fruitful and multiply?"
"No," we encourage people to pay attention to the stewardship of the earth and not use more than their portion."
telling women what to do with their bodies
The New York Times says girls should be compelled to take the HPV vaccination.
Regardless of how you feel about abortion, the "it's my body" argument is bogus. The object of an abortion is not fat cells, cuticles or unsightly pouches under the eyes. The object is a living something with unique DNA, not the mother's tissue.
the democrats' last hope
Sen. Joe Lieberman was run out of the Democrat party last summer, losing his primary to an antiwar candidate before winning reelection as an indepedent. His continues to caucus with the Democrats. Without him, they lose control of the Senate.
As the Democrat party becomes more stridently defeatist, Lieberman is the last of a breed that counted JFK and Scoop Jackson as exemplars: hawkish Democrats. Lieberman is being coy about possibly switching sides. Like the threat of nukes during the Cold War, it may be enough to scare the extremists in the party into stowing their white flags a bit longer.
In any case, Lieberman made his case in the Wall Street Journal:
The Senate and House of Representatives are bracing for parliamentary trench warfare--trapped in an escalating dynamic of division and confrontation that will neither resolve the tough challenges we face in Iraq nor strengthen our nation against its terrorist enemies around the world.

What is remarkable about this state of affairs in Washington is just how removed it is from what is actually happening in Iraq. There, the battle of Baghdad is now under way. A new commander, Gen. David Petraeus, has taken command, having been confirmed by the Senate, 81-0, just a few weeks ago. And a new strategy is being put into action, with thousands of additional American soldiers streaming into the Iraqi capital.

Congress thus faces a choice in the weeks and months ahead. Will we allow our actions to be driven by the changing conditions on the ground in Iraq--or by the unchanging political and ideological positions long ago staked out in Washington? What ultimately matters more to us: the real fight over there, or the political fight over here?
Read it all.
monday, february 26,
2007
over-educated idiots
My father, who left the University of Chicago six months shy of graduation because of WWII, always warned me about "over-educated idiots" found in academia, think tanks and the media. This came to mind reading David Remnick in the New Yorker fawning over Al Gore.
Remnick is smart, educated and accomplished. Yet, when it comes to Al Gore, in article after article, it's further proof that love is not just deaf, dumb and blind-- it's also stupid.
Here's Remnick:
It is worse than painful to reflect on how much better off the United States and the world would be today if the outcome of the 2000 election had been permitted to correspond with the wishes of the electorate.
The election did. Just as the Yankees scored more runs in the 2003 World Series, but lost to the Marlins who won more games, Gore got more popular votes but lost more states. That's the way elections work in the USA.
The attacks of September 11, 2001, would likely not have been avoided, though there is ample evidence, in the 9/11 Commission report and elsewhere, that Gore and his circle were far more alert to the threat of Islamist terrorism than Bush and his.
Hogwash. Clinton-Gore treated the 1993 World Trade Center bombing as a police matter.
And Gore's own commission advocated installing secure doors on airline cockpits; had Gore followed through, it would have prevented 9/11.
But there was no follow through. They were too busy getting V-chips installed on TVs and waging war on Big Tobacco.
But can anyone seriously doubt that a Gore Administration would have meant, well, an alternate universe, in which, say, American troops were sent on a necessary mission in Afghanistan but not on a mistaken and misbegotten one in Iraq;
Who says Gore would have sent troops to Afghanistan? Recall the Democrats' dire warnings that the Soviet's were humiliated there and it was another quagmire in the making? I can envision Gore negotiating with the Taliban to shut down training camps.
the fate of the earth, not the fate of oil-company executives, was the priority of the Environmental Protection Agency; civil liberties and diplomacy were subjects of attention rather than of derision; torture found no place or rationale?
Is this the same Gore who advocated an extraordinary rendition in a meeting with Clinton, saying,
"That's a no-brainer. Of course it's a violation of international law, that's why it's a covert action. The guy is a terrorist. Go grab his ass."
Remnick goes on to praise Gore for his global warming crusade. Yet again, Gore negotiated the useless and DOA Kyoto treaty and, with Clinton, did nothing of consequence. Bush negotiated the Asia Pacific Partnership on Clean Development and Climate that includes China and India.
Remnick hopes that Hillary and Obama will bloody each other so badly in the next year, it will open the door for Gore to run in 2008.
If only to take an honest man's word for it, Gore's entry into the race is unlikely.
Honest? He lied about raising illegal campaign funds at the Hsi Lai Buddhist temple in southern California. He illegally used the White House to pitch for campaign donations. If Gore had a Ronnie Earle on his case, he'd have been indicted for money laundering. Then there were all those artless fibs he blathered through the 2000 campaign.
For sheer cynicism, remember Gore telling the Democrat convention his weepy tale of watching his sister die of lung cancer and how it changed his mind about tobacco?
Some years after that "lifechanging" moment, Gore bragged to an audience of tobacco growers:
Throughout most of my life, I raised tobacco. I want you to know that with my own hands, all of my life, I put it in the plant beds and transferred it. I've hoed it. I've chopped it. I've shredded it, spiked it, put it in the barn and stripped it and sold it.
Deaf, dumb blind and most definitely stupid.
opening the silos
It has been said that during the Cold War the principal adversaries would occasionally open the doors of their silos so rival satellites could verify that there were, in fact, missiles inside. The point, presumably, was to disabuse the adversary of any fantasy that there weren't thousands of ICBMs poised to retaliate.

One can't help but wonder whether Israel isn't doing essentially the same thing. Israel does not have ICBM silos and Iran does not have reliable spy satellite coverage, so Israel needs to leak its way to credibility:


Israel is negotiating with the United States for permission to fly over Iraq as part of a plan to attack Iran's nuclear facilities, The Daily Telegraph can reveal.

To conduct surgical air strikes against Iran's nuclear programme, Israeli war planes would need to fly across Iraq. But to do so the Israeli military authorities in Tel Aviv need permission from the Pentagon.

A senior Israeli defence official said negotiations were now underway between the two countries for the US-led coalition in Iraq to provide an "air corridor" in the event of the Israeli government deciding on unilateral military action to prevent Teheran developing nuclear weapons.
It's a good read. Two of the comments brought a chuckle:
Speaking for the left, if we would just negotiate I'm sure the issues could be worked out, and we could have peace in our time.

Then we all could go home and get a nice quiet sleep.

By Neville Chamberlain, at Sat Feb 24, 01:24:00 PM


If the left would just sit down and negotiate with the military, instead of threatening and attacking it, perhaps they could relax and we could get on with the war.
the surge is working
This turnaround in Baghdad is confirmed at home by the media's near-deafening silence. If it seems like you've heard less about how Iraq is spiraling into civil war in the weeks since the surge was announced, this is why. Even some discordant voices in the media are starting to wonder what's happening. Time magazine worries that it's "Quiet in Baghdad. Too quiet." That's right -- a dramatic reduction in violence is actually bad news.

It's too early to claim victory just yet; the operation is just two weeks old. But U.S. troops have been able to accomplish all of this with just one more brigade in-country, with four more on the way by May. These encouraging early returns show the potential for success when we apply concentrated military force to the security problem. When the Army and Marine Corps are on offense, carrying out combat operations and clearing out insurgent strongholds, we win. When we lay back, carrying out routine patrols and playing Baghdad beat cop, we lose.

The key to success is staying power. The always incisive Daffyd ab-Hugh has a good read on this dynamic. Counterinsurgency in Iraq has often been compared to a game of whack-a-mole -- secure an area, only to have the insurgents pop up somewhere else. But if we slammed a mallet into the hole, and kept it there, then picked up a new one... and did the same?

This is a new game called Seal-a-Hole , and it has a very different dynamic from Whack-a-Mole: the normal game is one of futility; the game continues until the player gets tired and quits or he runs out of money. But Seal-a-Hole actually has a victory point: when all the holes are sealed, the game is over -- and the player, America, has won.

Even though Seal-a-Hole is not futile, it nevertheless requires a great deal of patience; there are many, many holes, and each hole has a mole who must be whacked. Some of the holes, such as Sadr City, are very big and will require many mallets to properly seal. But if we have the courage and fortitude of our American forebears, we will seal those holes... and we will win.

...

When things don't go well in Iraq, we see the endless B-roll of chaos and carnage. When things are on the upswing, we tend to hear more about Anna Nicole Smith. The media will never acknowledge victories in Iraq, so we'll have to settle for an absence of bad coverage. But even in this relative lull in Iraq, it's important to understand and appreciate the short-term victories so we can create more of them. And finish the job.
the golden age of air travel
It was fancy, but it also took a lot of your gold. But the nostalgia is fun.
Via Instapundit
please don't share
Recently bio-researchers recreated the flu virus that, in 1918, killed between 50-100 million people worldwide in 18 months. (The wide range is due to poor recording-keeping in the third world.) Regardless, they were able to bring this killer back to life because they had its DNA blueprint.
The Influenza Genome Sequencing Project, funded by the National Institute of Allergy and Infectious Diseases (NIAID), one of the National Institutes of Health (NIH), announced today that it has achieved a major milestone. The entire genetic blueprints of more than 2,000 human and avian influenza viruses taken from samples around the world have been completed and the sequence data made available in a public database.

"This information will help scientists understand how influenza viruses evolve and spread," says NIH Director Elias A. Zerhouni, M.D., "and it will aid in the development of new flu vaccines, therapies and diagnostics."

"Scientists around the world can use the sequence data to compare different strains of the virus, identify the genetic factors that determine their virulence, and look for new therapeutic, vaccine and diagnostic targets," says NIAID Director Anthony S. Fauci, M.D.
Suppose some suicidal death cult, like, say, a fringe group of jihadis decided to inflict mass death with a flu bug?
sunday, february 25,
2007
sunday reading
Here's your chance to bone up on the latest doings in Putin's Russia -- Kremlin, Inc.-- from the New Yorker.
wooden and abdul-jabbar
John Wooden is the legendary college basketball coach whose UCLA Bruins won 10 national championships in his last 12 years as a coach, including seven in a row.
Kareem Abdul-Jabbar played on some of those teams (as Lew Alcindor). Of course, Kareem went on to a Hall of Fame career with the Lakers. He's also a history buff and co-author of three books: Black Profiles in Courage: A Legacy of African-American Achievement, A Season on the Reservation: My Soujourn With the White Mountain Apaches and his latest, On the Shoulders of Giants: My Journey Through the Harlem Renaissance.
Yesterday Wooden joined Kareem for a book signing event at UCLA:
It has been decades since Wooden and Abdul-Jabbar have coached and played, respectively, but the two can still put on quite a show.

Abdul-Jabbar wore a casual outfit - navy-blue UCLA polo shirt and jeans - while Wooden looked dapper, as usual, in a navy-blue suit with his customary bolo tie.

As the two sat and signed, cell phones and cameras clicked behind a roped-off area in front of the table. Fans lined the stairs in the middle of the bookstore. Security was everywhere. The autograph line started in the bookstore and worked its way outside, winding around the J.D.Morgan Center.

Abdul-Jabbar and Wooden didn't have much time to chat, but when they do, it's special.

"We've always had things to talk about, and it usually has nothing to do with basketball," Abdul-Jabbar said. "My father passed away about a year and a half ago, and (Wooden) is from his generation, so it's nice to have him here. I share his grandchildren and great-grandchildren."
Wooden is 96 years old and looks fit. He still attends Bruin home games, and often before tip off, visiting players form a line and pay homage to the man.
family ties
The Associated Press has a story about how Mitt Romney's great-grandfather had five wives. The fifth he married in 1897. This strikes me as ancient history, particularly since the Mormon church banned polygamy many years ago.
But the AP had to get that out there.
If a candidate's relatives are an issue, how about Hugh Rodham, the fatso brother of Hillary Rodham Clinton. You may remember how Hugh pocketed $400,000 in legal fees for getting two felons pardoned by then-president Bill Clinton. (After a big stink, he gave the dough back.)
So if Baby Hughie had that much sway with his brother-in-law, how much will he have with sis?
Inquiring minds want to know.
saturday, february 24,
2007
interview with rudy
Hugh Hewitt interviews Guiliani.
beverly hills farsi
Did you know that 20 percent of Beverly Hills residents are of Persian extraction? That requires the city to print election materials in both English and Farsi, and many of the limo liberal locals weren't happy. As the LA Times editorialized today:
There's nothing new about hostile reaction to foreign languages appearing alongside English on signs, pamphlets and other official reading material. But there's something more comical about it when it happens in Beverly Hills. Maybe that's because unlike much of the immigrant bashing in the rest of the country, the Beverly Hills clash isn't about (comparatively) rich versus poor but rather (comparatively) rich versus rich.

These aren't entitled natives angry because low-income newcomers are gobbling up their tax dollars and overcrowding their schools; it's established homeowners miffed at other established homeowners, at least in part because they're different. Much of the animosity between longtime residents and the newer population of Iranian immigrants is in reaction to what are pejoratively called "Persian palaces" being built around town by refugees from the Iranian Revolution. So we have the spectacle of people living in European-style manses, many based on film-set fantasy designs that represented the ultimate in ostentation for their time, upset by the gaudy ostentation of the Middle Eastern-style mansions arising next door.

Even the ballot snit was at least partly about aesthetics. One Beverly Hills resident who threw away her sample ballot in disgust told The Times that she thought it looked like "a menu from a Farsi restaurant with a translation in English."
blink. not.
CSIRO physicist Dr Piers Barnes explains to writer and occasional photographer Nic Svenson how many shots she should take to get one where no-one's blinking. This is Nic's story...

"Anyone who's played photographer at family functions knows that, even if everyone stays perfectly still, there's always someone who blinks.

I often have to take group photos and I wondered just how many shots I'd have to take to get one where no-one's blinking. I started counting: people, photos, photos spoilt due to blinks... It was taking forever! I couldn't make up a rule after ten counts. To be what's known as statistically significant, I'd need around two hundred.

I whinged to my colleague, Dr Piers Barnes, and he said: 'You don't need data, we can model it.' Trying not to feel like an idiot for thinking science is based on hard numbers, I set about finding some figures to plug into the formula Piers was working on.

It turns out that the average number of blinks made by someone getting their photo taken is ten per minute. The average blink lasts about 250 milliseconds and, in good indoor light, a camera shutter stays open for about eight milliseconds.

Figuring out the number of photos to take so I can expect to get one where no-one's blinking relies on probabilities (I'd like to guarantee a good shot, but apparently this is impossible as there's always a chance someone will blink). When sorting out probabilities, you have to consider what might influence them.
friday, february 23,
2007
spiteful, petty politics from trent lott
Mr. Lott's beachfront property in Pascagoula--one of three homes he owned--was swept away entirely by Hurricane Katrina's waters. Like many Gulf Coast residents, Mr. Lott was soon reminded by his insurer, State Farm, that his policy only covered wind damage--not flood damage. The senator surely knew that, which is why he'd also purchased federal flood insurance. According to his flood policy that was in effect when Katrina hit, he was covered up to $350,000 in flood damages, and he presumably collected in full. (Sen. Lott's office didn't return my call.)

State Farm, however, refused to cough up, inspiring Mr. Lott to embark on a campaign ripped straight out of the Democratic playbook. First was to pay a call to the favorite mob squad of the left, the plaintiffs' bar. Quicker than you can say "tort reform," Dickie Scruggs, the legal kingpin who engineered Mississippi's tobacco shakedown, was representing Mr. Lott in a high-profile lawsuit against State Farm.

...

his big bomb came last week, when he introduced legislation that would end the insurance industry's exemption from certain federal antitrust regulations. Mr. Lott suggests this is to keep big insurance players from conspiring to do evil things, though the reality is that the exemption mainly benefits small insurers who use it to pool statistically reliable data. So in his wrath, Mr. Lott may end up kneecapping many of the hundreds of small insurers who offer some real competition to the so-called conspiring giants.
media appearances
Burt will be the Mark Isler radio program tonight in Los Angeles (790 on the AM dial) from 11 p.m. to 1 a.m.
Joseph Phillips' talk from the Reagan Ranch High School Conference will show twice this weekend on C-SPAN Book TV:
Saturday 2/24 at 7:45 pm ET
Sunday 2/25 at 10:15 am ET
are liberals born that way?
Michael Medved was discussing a study from Psychology Today that found innate differences between liberals and conservatives. Supposedly tendencies toward one or the other show up in early childhood.
As adults, the study says, liberals have messier offices and bedrooms, listen to more jazz and are more non-conformist. Conservatives keep neater offices and have a greater concern about death. There was much more I cannot recall.
I dunno... I regard myself as conservative, yet I listen to jazz and keep a messy office. I don't fear death or even think about it much. Still, the nature-nurture aspect of political views fascinates me.
Frankly, liberals fascinate me, much the way a strange tribe fascinates an anthropologist. Here are a few of my observations:
Emotionalism-- most liberals I know are emotional people with good hearts. They are frustrating to debate because, after following the logical progression of an argument a few steps, and perhaps sensing the path of logic leads to a conclusion they dislike, they short-circuit. Debate ends with, "That's just how I feel."
See no evil -- virtually every lib I know struggles with the notion of evil (unless it's Bush). Evil is just another point of view. I suspect for many this stems from the idea that a belief in evil requires a belief in god. I say, isn't hacking 800,000 people to death intrinsically evil, god or no god?
If it feels good, do it. Liberal policy usually begins with a righteous motive -- help the poor, save the planet etc. But public policy often yields unintended consequences. Thus millions have died in the Third World of malaria because libs got spooked by

Silent Spring

and banned DDT. Millions of American black families were destroyed by welfare policies that begat fatherless households and smothered the underclass with pity.
Love of treaties. Liberals want to believe that all people are reasonable and that sufficient negotiation can resolve conflict. Thus they love the UN despite its corruption, ineffectiveness and malfeasance. They abhor military action as unreasonable. In many cases, war is crime fighting writ large. If you are antiwar, shouldn't you also be against cops fighting criminals?
Disdain for capitalism. Intellectually liberals understand that capitalism is the engine of our prosperity. On a gut level, they despise the notion of profit as exploitation. Hence they seek to punish business via taxes and regulation (which is not to say that business should not be taxed or regulated).
Pie slicing. Wealth is created by human enterprise and is thus infinite. Again, liberals understand this intellectually. But in their gut, liberals believe wealth is something finite that must be divied up fairly via government. (If wealth were not dynamic, people in the time of Charlemagne would have been wealthier than people today -- after all, there were fewer people getting a cut of the pie.)
Out of sight, out of mind, out of heart. Saddam Hussein murdered 300,000 Iraqis right after the Gulf War and liberals raised nary a peep. Since 2003 fewer than 300,000 have died, yet the "humanitarian" outcry is both shrill and sustained.
Liberals are really conformists. Heather MacDonald observed that liberalism is the default condition in America, something one needs to "think their way out of." Being liberal is easy because it is swimming with the stream. Jon Stewart is a conformist. Every guy who sports a ponytail, tattoo and ear stud to signal his creative bona fides is a conformist.
Liberalism is arrested development. Almost every conservative I know was liberal until they outgrew it. George Clemenceau said, "A 20-year-old who is not a Socialist has no heart, but a 30-year-old who is still a Socialist has no brains." It's condescending, yes. But liberals think conservatives are selfish, belligerent and judgmental.
For all the liberal bashing on this site, one must acknowledge the powerful contributions of liberals. Ending slavery, promoting civil rights, creating a social safety net, advancing women's rights -- how can one argue with all that?
But where are such liberals today?
My liberal friends think Iraqis "aren't ready" for democracy, which is both smug and bigoted and ignores the difficulties the United States faced in its infancy.
My liberal friends describe the Iraq war as a total disaster, ignoring the millions of Kurds prospering in northern Iraq and the trial/execution of a genocidal murderer.
My liberal friends, who once sent me email petitions about the plight of Afghan women under the Taliban, now sniff that Bush hasn't wiped out the poppy trade.
In short, today's liberals have become intolerant, intransigent and cynically isolationist. Worst of all, they refuse to see that, despite all of the USA's sins, it remains the greatest force for good in the world.
Let's hope that isn't innate.
Jim Bass
eric hoffer quote
Courtesy of Maggie's Farm:
The monstrous evils of the twentieth century have shown us that the greediest money grubbers are gentle doves compared with money-hating wolves like Lenin, Stalin, and Hitler, who in less than three decades killed or maimed nearly a hundred million men, women, and children and brought untold suffering to a large portion of mankind.
-- Eric Hoffer
Hoffer died before Pol Pot and the Hutus murdered millions more.
a baghdad homecoming
Here's a quick snapshot of the Baghdad security crackdown, from my own family's point of view. My story involves only a single household, but – so far – it has a happy ending. I don't pretend that this one household's story is a counterweight to all the misery and murder that the crackdown is intended to address, but it's my profound hope that this story is – or soon will be --representative of many other such individual tales that will be told by many other Iraqi families.
Read on.
gender humor
How to shower like a woman. How to shower like a man. PG-13.
thursday, february 22,
2007
happy birthday, george
Remembering our first president.
blackened kettle
Hillary and Obama are fighting for the soul of Hollywood ($$$) and it's getting ugly:
David Geffen offering a few caustic comments, has incited a strong Hillary Clinton campaign attack on Geffen -- and the candidate he now favors, Sen. Barack Obama.

Then Obama's team fired back. "Everybody in politics lies, but they [the Clintons] do it with such ease, it's troubling," Geffen had said.
Well said. I think Bill Clinton lies in his sleep, and I don't mean on his side.
But David Geffen casting aspersions? He's pure Hollywood, where as they say, "your friends stab you in the front."
And David reputedly knows how to wield an ambitious knife. From a BBC report on a Geffen biography:
The heavyweight tome by Wall Street entertainment reporter Tom King chronicles many of Geffen's bitter showbusiness battles and it paints a none too pretty portrait of a man often willing to destroy a friendship in pursuit of a business deal. ...Geffen's carefully crafted campaign to destroy his friendship with a record company chief to secure a negotiating advantage by humiliating his wife has brought particular pangs of disgust.

The book has also generated interest because it reveals Geffen's close relationship with President Clinton, who has turned to him for advice on handling the media.

King even reveals how Geffen, who is openly gay, once took a boyfriend, Todd Mulzet, to an Oval Office meeting where the president sought his counsel on spinning the media.

Geffen left the session grinning and turned to Mulzet and - according to the book - said "I did that for you", implying that he had given the president advice largely to impress his partner.
They all deserve each other.
pelosi's crocodile tears
While Dem Cong leader Nancy Pelosi and Slimey John Murtha plot to undermine (Murtha's word) the American military effort in Iraq, Dick Cheney made a very common sense observation:
"I think if we were to do what Speaker Pelosi and Congressman Murtha are suggesting, all we will do is validate the al-Qaida strategy," the vice president told ABC News. "The al-Qaida strategy is to break the will of the American people ... try to persuade us to throw in the towel and come home, and then they win because we quit."
The AP desecribed this as "harsh" criticism. Speaker Nancy Pelosi fired back that Cheney was questioning critics' patriotism.
Isn't this getting a bit stale? Whenever someone disagrees with your policy -- in this case, cut and run -- you weep for the personal wound suffered.
Isn't this just a pussified approach to stifling dissent? Nancy ran to President Bush demanding that he make Cheney stop saying all those mean things.
Murtha will be crying, too, if he reads Ann Counter's latest:
Rumored ex-Marine John Murtha, Democrat congressman from Pennsylvania, has become the darling of the cut-and-run crowd for trying to place absurd restrictions on our troops, amounting to withdrawal from Iraq. Were Arab sheiks whispering into his ear?

In case you missed the video on "I Love the '80s," Rep. Murtha was caught on tape negotiating bribes with Arab sheiks during the FBI's Abscam investigation in 1980. The Abscam investigation was conducted by Jimmy Carter's Justice Department, not right-wing Republicans.

On tape, Murtha told the undercover FBI agent: "When I make a f***in' deal I want to make sure that I know exactly what I'm doing and ... what I'm sayin' is, a few investments in my district ..."

It is a profound and shocking fact that Murtha even showed up at this meeting, knowing he was going to be negotiating bribe money with Arabs.

...

The Democrats' cheat-sheet on Murtha demands that it be shouted out: "He didn't take a bribe on tape!" That's their defense. There is not even a pretense that he didn't talk to Arabs about a bribe.

He negotiated with a prostitute at the bar, but never consummated the deal. He's a saint! Let him be my congressman!

It's the Clintonian "incompetency" defense: Murtha was willing to be bribed; he just never got his act together enough to pick up the cash. I may not be honest, but I'm way too disorganized to actually take bribes!

Fine, Murtha was never convicted. Neither was Nixon. Venal hack John Murtha was willing to sell his country's interests to Arab sheiks. This is the man Democrats have put up to lead the anti-war charge today, demanding that the commander in chief stop deploying troops against his Arab friends.

If only this whole war thing would blow over, maybe that Arab is still waiting out there with a deal for him.
wednesday, february 21,
2007
priceless politics
How have San Francisco's golf courses been kept going when they cost more to maintain than they are receiving in fees from the golfers who use them? Recent renovations alone cost more than $23 million.

According to the San Francisco Chronicle, "the city closed the gap with $16.6 million from state bond funds meant for recreation and park projects in underserved and economically disadvantaged areas." In other words, the poor have once again been used as human shields, this time to protect golfers.

The great allure of government programs in general for many people is that these programs allow decisions to be made without having to worry about the constraints of prices, which confront people at every turn in a free market.

They see prices as just obstacles or nuisances, instead of seeing them as messages conveying underlying realities that are there, whether or not prices are allowed to function. What prices are telling San Francisco is that municipal golf courses cost more than they are worth -- not in my opinion, but in the actions of people who are spending their own hard-earned money.

But what politician wants to hear that? Politics is priceless.
pregnancy hormone reverses ms damage
A hormone produced during pregnancy could reverse some of the neurological damage associated with multiple sclerosis, a mouse study suggests.

The finding could help explain why women with MS suffer fewer symptoms during pregnancy. And the results suggest that the hormone - prolactin - might one day be used to treat people with the disorder.

Multiple sclerosis involves the destruction of the sheath of fatty tissue called myelin that normally protects nerve cells. The loss of this protective layer disrupts nerve signalling and leads to symptoms including loss of coordination.
mitt romney's wife
...has MS. Here is an interview with her at ABC News.
the rapping pitchman
Moving goods to a rap rhythm. Video here.
that sinking city
New Orleans: Nearly a year and a half after Katrina, most of the Gulf Coast is recovering nicely — with one major exception. So who is to blame for that?

We know this much: It's long past time to blame FEMA. Whatever sins were committed in the hurricane's aftermath by the Federal Emergency Management Agency or anyone else at the federal level, they're now of relevance only to historians.

For cities that were in the storm's path, the future is largely in their own hands by now. Most are responding to that challenge with energy and hope. Then there's New Orleans.

This week's Mardi Gras brought some much-needed tourist cash to the Big Easy, but along with it came some probably unwanted media attention to the city's social and economic ills. On Monday, Reuters ran a story on New Orleans' crime, noting that its 27th homicide of the year — a remarkably high number for a place with only about 200,000 residents — occurred over the weekend.

A few days earlier, the New York Times chronicled the exodus of educated, middle-class New Orleans residents who are giving up on the city they love because of "high crime, high rents, soaring insurance premiums and what many call a lack of leadership, competence, money and progress."
We all know that Bush pointed that hurricane at New Orleans because he doesn't like black folk -- except for all the black people he's appointed to high positions in his administration.
dem cong
Turns out the Dem Cong are governing with pinpoint smart-bomb poll-guided accuracy. This, via Joyner:

Public Opinion Strategies* has released a survey [PDF file here] of likely voters' attitudes toward the Iraq War that finds that most voters think the country is going in the wrong direction (67%) and President Bush is doing a poor job (60%), and that Iraq will never be a stable democracy (60%). No real surprises there, right?

However:

57% believe "The Iraq War is a key part of the global war on terrorism."
57% "support finishing the job in Iraq, that is, keeping the troops there until the Iraqi government can maintain control and provide security for its people.
50% want our troops should stay and "do whatever it takes to restore order until the Iraqis can govern and provide security to their country" while only 17% favor immediate withdrawal
56% believe "Even if they have concerns about his war policies, Americans should stand behind the President in Iraq because we are at war."
53% believe "The Democrats are going too far, too fast in pressing the President to withdraw the troops from Iraq."

Thus far immobilized from taking any action beyond expressing some wishful thinking, an anti-war Congress … which senses viscerally it is on the wrong side of history and is afraid to act … is accurately reflecting the will of an American people who have been successfully depressed and confused about our prospects and direction in this war, but still don't want to surrender.
Dem Cong -- whoever coined that is brilliant.
tuesday, february 20,
2007
idiot insurance
We require motorists to carry insurance protecting themselves and the rest of us against the costs of catastrophic events. Perhaps it is time to require the terminally clueless among us to carry similar insurance. In fact, given that they are sure to substantially damage themselves and others, while most motorists will never have a serious accident, the benefits of stupidity insurance will certainly accrue to everyone.
the stink
Remember Big Daddy in the movie Cat on Hot Tin Roof? He kept walking around complaining about the "stink of mendacity" emanating from his dysfunctional family. I know how he feels, for every day the bad odor of lies, hypocrisy, and deluded appeasement wafts from the daily news.

As always, the conflict between Israel and the Arab states is the prime source of malodorous mendacity. The latest noisome news concerns the agreement hammered out in Mecca between Hamas and the Palestinian Authority. These two terrorist gangs have been killing each other for the past several weeks, but now supposedly they are going to form a "unity" government — which means they can get back to killing Israelis and pursuing their goal of cleansing the land of Jews "from the river to the sea."

What's really the issue here is not creating a functioning government, but rather restarting the billions in welfare that the West for years has been foolishly sending to the corrupt gangs that control the lives of Palestinian Arabs, and that was cut off in the wake of Hamas' electoral victory. Over the decades we have bought into the lie that Palestinian "nationalist aspirations" and "frustration" with the "illegal occupation" are the engines of terrorist murder. So we have been sending money to "leaders" who speak the soothing words of "agreements," the "two-state solution," "frameworks," and "road-maps," all the while that the real aim — the destruction of Israel — continues to be pursued.
inside job
It's easy to beat up on the LAUSD, the Los Angeles school district. It is big, bloated, stupid, incompetent and corrupt. It built a $150 million high school on top of a known toxic site. The school was never occupied. Graduation rates are abysmal.
Now, in the latest scandal, some 10,000 district employees have been without paychecks for two weeks. Why?
The district let a contract to SAP Public Services for a new payroll system in 2005, which has bungled the job. Why did that firm get the gig although it was not the lowest bidder?
The lobbying firm Rose & Kindel represents the LAUSD's interests in Sacramento. The firm, it turns out, was also representing SAP at the very same time - but never, everyone vows, did it lobby the LAUSD on SAP's behalf. That would have been wrong.

It gets worse.

At the same time the two clients of Rose & Kindel were involved in the bidding process for a new district payroll system, the firm was pushing legislation sponsored by Assemblyman Lloyd Levine, D-Van Nuys, that would allow the LAUSD to waive state rules requiring it to accept the lowest bid for contracts. In other words, a bill that would allow the LAUSD to accept SAP's payroll bid, even though it wasn't the lowest one submitted.

And heck if it wasn't timely.

The same day the Levine bill was signed into law in October 2005, the LAUSD announced its contract with SAP.

Coincidence? Of course not. Nothing this convoluted and connected could be mere happenstance. But its sheer complexity is perhaps what school officials are counting on for insulation.

Who can work up a proper froth when the details are so mind-numbing? Who bears the blame when so many people are involved - school officials, the school board, SAP, Levine and lobbyists at Rose & Kindel.

With responsibility for the corruption spread so far and wide, no one has to bear the brunt of it.
Question for those who insist a "single payer*" healthcare system will be more efficient: what planet are you living on?
Meanwhile, the school board is angling for a 600% pay raise.
* Government monopoly
all wet
Many of us chuckle at the prudishness of much of Islamic culture. I say much because many Turkish women are quite stylish and western in their attire. In fact, wearing the head scarf is against the law in many places.
Still...
Amana Siddiqi loved swimming as a child but gave it up as a teenager because her Muslim faith required she fully cover her body in public.

"At age 15, I started to cover, so I stopped going to public pools," said Siddiqi, now 27, whose parents come from India and Pakistan. "Most of my friends stopped, too. They felt self-conscious."

Before getting too smug, look at this photo from the USA in the 1920s.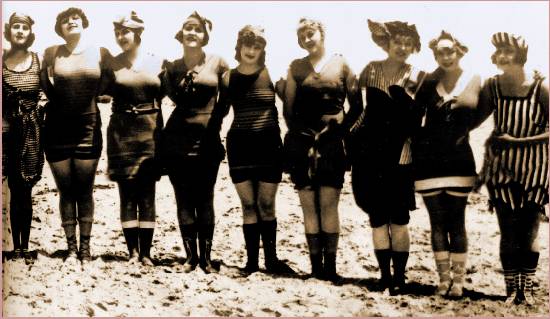 monday, february 19,
2007
spot the common problem
It is a dangerous and self-deluding mistake to focus only on suicide attacks in Israel and Iraq. That makes us forget that the carnage is not so much about us but about a them - a them that is even more dangerous to other Muslims than it is to us in the West.
The article gones on to highlight a few of the latest Islamic terror attacks, ranging from the Phillipines to Eritrea.
surrender? nuts!
Some surprising poll numbers about the war.
it's officially hopeless
From the New York Times:
Two days after Prime Minister Nouri al-Maliki called the opening steps of a security crackdown here a "dazzling success," two car bombs tore through a crowded market and killed at least 60 people Sunday.
Got that? Don't believe anything you hear about success -- two bombs negate all that.
How hard is it to murder people and make a political statement with a truck bomb? Just ask the folks in Oklahoma City.
Meanwhile, things have calmed down a bit in Baghdad, according to Mohammed Fadhil,who lives there.
Since the multiple bombings in Shroja market district on the 12th, Baghdad hasn't seen any major attacks and there's a tangible decrease in all kinds of attacks.

Not only official statements say so (Defense ministry officials said today that attacks are down by 80% in Baghdad). It's a reality I live in nowadays, at least in my neighborhood and its surroundings. It is also what I hear from friends and relatives in other parts of the city.

We are hearing fewer explosions and less gunfire now than two weeks ago and that, in Baghdad, qualifies as quiet.

I agree with what some experts say about this lull in violence being the result of militants keeping their heads down for a while. It is also possibly the result of the flight of the commanders of militant groups. Grunts left without planners, money or leaders wouldn't want to do much on their own.

During my tour in Baghdad today I had to pull over to be searched at several checkpoints — something that has rarely happened to me before. When you are searched soldiers or policemen check the identity cards of passengers, and the registration papers of the vehicle along with a thorough physical search. Checkpoints deal even more strictly with large vans and cargo trucks.

The interesting thing about new checkpoints is the constant shifting of their location. One hour the checkpoint would be here and two hours later it would relocate to another position within the area. I think this helps security forces avoid becoming targets instead of hunters.

In addition to soldiers and policemen, most checkpoints have one or more traffic policemen reportedly being equipped with laptops that enable them to flag suspected vehicles by offering instant access to vehicle-registration databases.
UPDATE
Although soldiers and policemen are filling the streets, the terrorists are too coward to face the troops and choose to massacre unarmed civilians instead. What are they trying to prove with these cowardly acts? They can't defeat the troops, so they attack civilians to discredit the security plan. But I don't think such attacks can change the course of events on the long term; the Baghdad plan is a strategic effort that will go on for months, and time doesn't seem to be on the terrorists' side right now.

Today there was fighting in the neighborhoods around us and there were several attacks in other parts of Baghdad. It looks like some militants consider that sitting back and waiting is not an option and so they are trying to break the siege. The fighting was fierce and gunship helicopters circled at low altitude over the fighting zone and adjacent areas.

The sky of Baghdad is a story by itself—the city is being watched from above at several levels; from helicopters flying just above rooftops to various types of surveillance drones -which Baghdadis collectively refer to as "the fly" because of the buzzing sound- that remain in the air for hours, to another type of surveillance aircrafts that fly silently at higher altitudes and I suspect are also unmanned. Above those flies an assortment of fighter jets, and sometimes heavy bombers. All in all it'd be true to say that the sky is full of eyes and guns.

Although attacks happen here and there, the general feeling is still closer to hope and appreciation of the plan than pessimism. More families are returning to the homes they were once forced to leave, and we're talking about some of the most dangerous districts such as Ghazaliya and Haifa Street.
indicting patrick fitzgerald
Victoria Toensing, co-author of the espionage statute that was the basis of the Plame brouhaha, indicts the Special Prosecutor:
Could someone please explain to me why Scooter Libby is the only person on trial in the Valerie Plame leak investigation?

Special Counsel Patrick J. Fitzgerald charged Vice President Cheney's former chief of staff with perjury on the theory that Libby had a nefarious reason for lying to a grand jury about what he told reporters regarding CIA officer Plame: He was trying to cover up a White House conspiracy to retaliate against Plame's husband, Joseph C. Wilson IV. Wilson had infuriated Vice President Cheney by accusing the Bush administration of lying about intelligence in the run-up to the Iraq war.

Fitzgerald apparently concluded that a purported cover-up was sufficient motive for Libby to trim his recollections in a criminal way. So when Libby's testimony differed from that of others, it was Libby who got indicted.

There's a reason why responsible prosecutors don't bring perjury cases on mere "he said, he said" evidence. Without an underlying crime or tangible evidence of obstruction (think Martha Stewart trying to destroy phone logs), the trial becomes a mishmash of faulty memories in which witnesses can seem as guilty as the defendant. Any prosecutor knows that memories differ, even vividly, and each party can be convinced that his or her version is the truthful one.

If we accept Fitzgerald's low threshold for bringing a criminal case, then why stop at Libby? This investigation has enough questionable motives and shadowy half-truths and flawed recollections to fill a court docket for months. So here are my own personal bills of indictment:
Read on.
hillary scurries away
Sen. Clinton can take no such refuge. She faces an activist base that essentially believes that you cannot really be a Democrat without being solidly anti-war. As the author of some of the tougher and better-argued speeches in favor of regime change in Iraq, she now faces repeated demands that she pass this test of correctness—and pass it by denouncing her own recent positions. It will be difficult if not impossible for her to make this full act of contrition. This is not just because such a full-scale grovel would make her look flaky and pandering—she can stand a little of that, as her absurd position in favor of the flag-burning amendment showed us—but because what she said in the first place was so definite and unambiguous.

On her campaign visit to New Hampshire this weekend, she was asked by an audience member to describe her 2002 vote as a mistake "right here, right now, once and for all, without nuance." Until "we hear you say that," the questioner went on, "we're not going to hear all these other great things you've said." Not for the first time, she declined to oblige. Instead, she took refuge in the softer claim that she couldn't know then what she knew now, and in the following rather bizarre view of the Bush administration's policy:

From almost the first day they got into office, they were trying to figure out how to get rid of Saddam Hussein. I'm not a psychiatrist; I don't know all of the reasons behind their concern, some might say their obsession.

If she continues in this vein, then someone is going to remind her of how truly agonizing an effort to ride two horses can be. The record is very plain and easy to look up. Here is what she said in her crucial speech of October 2002:

In the four years since the inspectors left, intelligence reports show that Saddam Hussein has worked to rebuild his chemical and biological weapons stock, his missile delivery capability, and his nuclear program. He has also given aid, comfort, and sanctuary to terrorists, including al-Qaida members, though there is apparently no evidence of his involvement in the terrible events of September 11, 2001.

Notice what this does not say. It does not say that she agrees with the Bush administration on those two key points. Rather, it states these two claims in her own voice and on her own authority. A man like John Edwards can back away from his own 2002 vote easily enough by suggesting that he was deceived by Republican propaganda, but he was barely in politics before 2000. Sen. Clinton, however, was not just in politics. She was in the White House. That's why she had to speak of "the four years" that had elapsed since the relationship between the United States and Iraq went critical once more. As the preceding paragraph of her speech said:

In 1998, the United States also changed its underlying policy toward Iraq from containment to regime change and began to examine options to effect such a change.
sunday, february 18,
2007
hey man, this cat can play
Nora the cat loves to tickle the ivories.
the democrat/media's losing ways
The week's news from Iraq: According to the state television network, the leader of al-Qaida in Iraq, Abu Ayyub al-Masri, was wounded in a clash with security forces just north of Baghdad. A senior deputy was killed.

Meanwhile, the punk cleric Muqtada al-Sadr has decided that discretion is the better part of mullahs and has temporarily relocated to Iran. That's right: The biggest troublemaker in Iraq is no longer in Iraq. It may be that his Persian vacation is only to marry a cousin or two and consult with the A-list ayatollahs, but the Mookster has always had highly sensitive antennae when it comes to his own physical security -- he likes being the guy who urges martyrdom on others rather than being just another schmuck who takes one for the team. So the fact that urgent business requires him to be out of town for the Big Surge is revealing at the very least of how American objectives in Iraq are not at the mercy of forces beyond their control; U.S. military and political muscle can shape conditions on the ground -- if they can demonstrate they're serious about doing so.

Which these days is a pretty big "if." Reporting the sudden relocation, the New York Times decided -- in nothing flat -- that it was yet another disastrous setback. In Iraq, no news is good news, and Sadr news is badder news:

''With the new American offensive in Baghdad still in its early days, American commanders have focused operations in the eastern part of the city, a predominantly Shiite area that has long been the Mahdi Army's power base.

''If Mr. Sadr had indeed fled, his absence would create a vacuum that could allow even more radical elements of the Shiite group to take power.''

As my National Review colleague Rich Lowry marveled: ''So now we need to keep Sadr in Iraq because he's such a stabilizing influence!'' Of course! As Hillaire Belloc wrote, ''Always keep a hold of Nurse/For fear of finding something worse'' -- and, even when Nurse Sadr is blowing up the kids in the nursery every day, it's best to cling to her blood-drenched apron strings because the next nurse will be an even bigger psycho. America is a big helpless baby who's blundered into a war zone he can never hope to understand.

According to a report by the New York Sun's Eli Lake last month, Iran is supporting Shia insurgents in Iraq and Sunni insurgents in Iraq. In other words, it's on both sides in the so-called civil war. How can this be? After all, as the other wise old foreign-policy "realists" of the Iraq Study Group assured us only in December, Iran has "an interest in avoiding chaos in Iraq.''

Au contraire, the ayatollahs have concluded they have a very clear interest in fomenting chaos in Iraq. They're in favor of Sunni killing Shia, and Shia killing Sunni, and if some vacationing Basque terrorists wanted to blow up the Spanish Cultural Center in Mosul, they'd be in favor of that, too. The Iranians don't care who kills whom as long as every night when Americans turn on the evening news there's smoke over Baghdad. As I say in my book, if you happen to live in Ramadi or Basra, Iraq is about Iraq; if you live in Tehran, or Cairo, or Bei-jing, Moscow, Pyongyang or Brussels, Iraq is about America. American will. American purpose. American credibility.
what makes jimmy run?
Besides Killer Rabbits, what is Jimmy Carter afraid of? Eleven professors from Emory want to know.
cargo cult
Another peek into the strange world we live in:
Shouldering bamboo poles like rifles, theyexecuteimmaculatedrills, stamping to attention, about-turning and deploying their imitation weapons beneath a giant stars and stripes flag fluttering from a pole.

This tiny, imitation army belongs to one of the world's last surviving cargo cults, an anthropological phenomenon thought to have begun in the late 19th century and which mushroomed in the Pacific after the second world war.

When soldiers and airmen from the US and other allied countries arrived in the islands with huge war cargoes, it was believed by islanders that these were gifts from the gods - so those who followed the beliefs of a cargo cult would be rewarded for their faith. When goods fail to appear, as in the post-war period, it is because they have not yet performed the correct rituals - this has led to islanders re-creating airstrips, lookout towers and "radio equipment" made from wood or coconut shells and imitating the troops drills.

The Jon Frum cult on the island of Tanna, in the former Anglo-French colony of Vanuatu, celebrated the 50th anniversary of its founding last week with two days of parading, dancing and feasting. Miniature US flags festooned treesliningtheblacksandparade ground, the focus of Lamakara village, the cult's headquarters. Nearby Mount Yasur, a live volcano, is said to be the home of the spirit of Jon Frum.
shoot the curl
Hey, it's been in the 80s for the past two days here in Southern California. And that means it's time to wax those long boards and cock those shotguns and get in some skeet surfin'.
it's the gangsters, stupid
Before the victories of the civil rights movement, the murders of black people during the most intense redneck reigns throughout the South were committed by those once called "poor white trash." These were the people who became homicidally enraged at the idea of a black man acting as if he was a free person.

What is now so appalling is that while the street gangs that presently terrorize black communities across the nation do so with astonishing levels of murder and mayhem, they are so often defined by supposedly empathetic liberals as victims of race and class.

No such glib hogwash was spewed when the murderers were white and the resultant corpses were black. No one ever explained that the lower-class rednecks who were presenting themselves under peaked sheets while burning crosses, setting homes afire, bombing homes, offices and churches or murdering and mutilating their black victims, did so because they were feeling inferior to the white upper class of the South.

When the killers were white, the issues were justice and injustice, not social status or income. If there were actual justice, as we often heard during those violent Southern years of the civil rights movement, the killers would be punished for their crimes and black people would be able to walk the streets with the safety that should be the right of every citizen of this country.

But when the street gangs emerged with unprecedented fury 30 years ago in Los Angeles, we began to see something quite unusual. The opinions of those who had been so ice cold when it came to Southern racists either became quiet or looked for ways of explaining away the corpse after corpse after corpse left perforated by shotgun blasts and automatic weapons. Some were gang bangers, some were innocent bystanders, some were children caught in the crossfire.

In my travels to many cities during the past 30 years, I have noticed a distinct difference between the perception of these knuckleheads by those within striking distance of their anarchist wrath and those who live far from the mean streets on which so much violence takes place. Those oppressed by crime do not have the kind of inordinate sympathy for these killers that the bleeding hearts do. They want them controlled, incarcerated or removed from the world.
When liberals wail about the vast number of black men in prison, I doubt their black victims join the chorus.
big bad john
Congressman John Murtha gets reamed by the Washington Post
Mr. Murtha has a different idea. He would stop the surge by crudely hamstringing the ability of military commanders to deploy troops. In an interview carried Thursday by the Web site MoveCongress.org, Mr. Murtha said he would attach language to a war funding bill that would prohibit the redeployment of units that have been at home for less than a year, stop the extension of tours beyond 12 months, and prohibit units from shipping out if they do not train with all of their equipment. His aim, he made clear, is not to improve readiness but to "stop the surge." So why not straightforwardly strip the money out of the appropriations bill -- an action Congress is clearly empowered to take -- rather than try to micromanage the Army in a way that may be unconstitutional? Because, Mr. Murtha said, it will deflect accusations that he is trying to do what he is trying to do. "What we are saying will be very hard to find fault with," he said.

Mr. Murtha's cynicism is matched by an alarming ignorance about conditions in Iraq. He continues to insist that Iraq "would be more stable with us out of there," in spite of the consensus of U.S. intelligence agencies that early withdrawal would produce "massive civilian casualties." He says he wants to force the administration to "bulldoze" the Abu Ghraib prison, even though it was emptied of prisoners and turned over to the Iraqi government last year. He wants to "get our troops out of the Green Zone" because "they are living in Saddam Hussein's palace"; could he be unaware that the zone's primary occupants are the Iraqi government and the U.S. Embassy?
See John Murtha on FBI tapes from 1978. Murtha was a target of the Abscam investigation and an unindicted co-conspirator. This video shows him being cagey about taking a bribes. Slime.
Murtha's contribution to America? Mark Steyn:
"Democratic leaders have rallied around a strategy that would fully fund the president's $100 billion request for the wars in Iraq and Afghanistan but would limit his ability to use the money. . . . The plan is aimed at tamping down calls from the Democrats' liberal wing for Congress to simply end funding for the war.

"The Murtha plan, based on existing military guidelines, includes a stipulation that Army troops who have already served in Iraq must be granted two years at home before an additional deployment. . . . The idea is to slowly choke off the war by stopping the deployment of troops from units that have been badly degraded by four years of combat."

So "the Murtha plan" is to deny the president the possibility of victory while making sure Democrats don't have to share the blame for the defeat. But of course he's a great American! He's a patriot! He supports the troops! He doesn't support them in the mission, but he'd like them to continue failing at it for a couple more years. As John Kerry wondered during Vietnam, how do you ask a soldier to be the last man to die for a mistake? By nominally "fully funding" a war you don't believe in but "limiting his ability to use the money." Or as the endearingly honest anti-war group MoveCongress.org put it, in an e-mail preview of an exclusive interview with the wise old Murtha:

"Chairman Murtha will describe his strategy for not only limiting the deployment of troops to Iraq but undermining other aspects of the president's foreign and national security policy."

"Undermining"? Why not? To the Slow-Bleed Democrats, it's the Republicans' war. To an increasing number of what my radio pal Hugh Hewitt calls the White-Flag Republicans, it's Bush's war. To everyone else on the planet, it's America's war. And it will be America's defeat.
saturday, february 17,
2007
flu kills and retards
Some states contemplate making the new HPV vaccine mandatory. This is a significant personal intrusion for a disease (the virus is a precursor to cervical cancer) that is not communicable to the general public in the way that measles or polio is.
Annual deaths in the US number 3,900.
Annual deaths in the US from the flu? 36,000
Given that flu can only survive by moving from person to person, why doesn't the government make flu shots cheap and easy for everyone, instead of just the "high risk" people?
This question is even more urgent given research showing that pregnant women who get the flu have children who:
"displayed reduced educational attainment, increased rates of physical disability, lower income, lower socioeconomic status, and higher transfer payments compared with other birth cohorts."
Freakonomics blog has a good discussion about this.
lawnmower man
Hugh Hewitt rips GOP Congressman Ric Keller a new one. First, this quote from Keller:
Let me give you an analogy. Imagine that you have a next door neighbor who refuses to mow his lawn, and the weeds are up to his waist. You mow his lawn for him every single week. The neighbor never says thank you, he hates you, and sometimes he takes out a gun and shoots at you.

Under these circumstances, would you keep mowing his lawn forever? Would you send even more of your family members over to mow his lawn? Or, would you say to him, you better start mowing your own lawn or there's going to be serious consequences for you?
Hewitt replies with his own lawn analogy:
Okay, Congressman, let's say that we are mowing our neighbor's lawn. Let's say the neighbor's entire family isn't uniformly grateful and that the place still looks like a pig sty in spite of our best efforts. Still, there are a few more things you want to work into the equation.

For instance, you mentioned the neighbor has weeds, weeds up to his waist. Did you know that those are pernicious weeds? If those weeds are not adequately taken care of, they will take over not only the neighbor's lawn but soon the whole neighborhood. Someday, those weeds are going to be threatening our very own lawn, even though we live a couple of streets away.

There will probably even be some times when those weeds make serious inroads on our verdant grounds. We had to deal with them before, back in Fall of 2001. Do you remember that? It ruined the entire autumn. We had to spend the whole season spreading Scott's LawnGro to contain it but it still did incredible damage.

Also, did you know that the neighbor's lawn has an incredible vegetable garden? That vegetable garden helps everyone in the neighborhood eat right, including us. No matter who controls that garden, people will still want to buy the vegetables it produces. There will be a lot of hungry and sad faces around the neighborhood if everyone doesn't get their heirloom tomatoes and beautiful cucumbers.

In short, I guess what I'm trying to say is that it's in our own selfish interest to help our neighbor take care of his lawn. Once we teach him how to ride the Toro and use the Weedwacker, he'll be able to do it himself. But we can't just walk away from the situation because we don't like his attitude. We have to help him for as long as it takes to get that lawn ship-shape and until we're sure that he can keep it that way. Even if his punk teenage son uses the Toro we gave him as a "lawnmower bomb," we can't give up.

Yes, it would be nice if he were a little more grateful. It would be even nicer if he would give us some of those delicious vegetables as a gift for all we've done. But we don't expect that. All we want to do is get him to the point where he can take care of his own lawn. Besides, there are some other houses on the block that have that same weed.
"cold cash" jefferson back in the saddle
Eight months after stripping Rep. William J. Jefferson of his seat on the Ways and Means Committee, Speaker Nancy Pelosi plans to award the lawmaker with a spot on the Homeland Security panel.

The move, confirmed by a top Democratic leadership aide and expected to take place Friday, is aimed at giving Jefferson, D-La., a greater opportunity to help the people in his district, particularly those still recovering in the aftermath of Hurricane Katrina.
Jefferson, the subject of an ongoing federal bribery probe, surprised fellow lawmakers and political observers Dec. 9 when he won election to a ninth term in a close runoff race.

"He's been in limbo for a long time," the leadership aide said. "He's a member of Congress representing his constituents and is working on issues of concern to his district and the country."
Let's put this into perspective.
Last year the GOP's Tom DeLay was forced to resign his House leadership position because he was indicted for supposedly mishandling $190,000 in campaign donations. The indictment was brought by DA Ronnie Earle, who makes no secret of his liberal politics nor his personal animus toward DeLay. The charge is weak and trivial.
DeLay never took money and stuffed it in his freezer. The campaign funds were not for DeLay but other candidates. Yet he's gone.
And now Nancy Pelosi is assigning a suspected thief to oversee Homeland Security.
iraq update: how are the bad guys doing?
From StrategyPage:
How are the bad guys doing in Iraq? The Iraqi media is full of information on what the various Sunni, Shia and Kurdish factions are up to. Lots of the reporting is speculation, but a lot of it is not. If you've been following the action long enough, you can pick out the accurate stories. And the talk on the street and in the shops is also pretty dependable. That said, most people believe al Qaeda in Iraq is finished.

After boasting last Fall that they would establish a safe zone in western Iraq, and failing to do anything close to that, the Islamic terrorists lost whatever credibility they had left. Most of the terrorist bombings these days are the work of Iraqi Sunni Arab organizations, who still believe that if you make the Iraqi Shia Arabs mad enough, they will get so nasty that neighboring Sunni Arab nations will feel compelled to invade. This plan has split the Sunni Arab nationalists, mainly because the invasion shows no sign of happening, and the brighter terrorists point out that the Saudi army is unlikely to win against the Americans. In a trend that began two years ago, Sunni Arab factions are continuing to battle each other. U.S. troops stand aside when they encounter "Red-on-Red" fighting, then deal with the winner.

Meanwhile, the Iraqi Shia Arab militias, especially the Sadr forces (the Mahdi Army), have lost whatever unity and discipline they once had. Factionalism has taken over as several of Sadr's lieutenants compete for popularity and territory by driving Sunni Arabs out of Baghdad neighborhoods. Most of Iraq's Sunni Arabs have been chased from their homes since 2003, and that process has accelerated in the last year. The Iraqi Sunni Arabs are quite wealthy compared to Iraqi Shia, and the Shia gangs have been fighting each other over the loot, and the power. Gang war, literally, because many of the militiamen moonlight as gangsters (or vice versa).

While the number of terror bombings has been declining in the past year, the crime rate has not, and most people in central Iraq are looking forward to the "Battle for Baghdad." Brigades of troops are arriving from the Kurdish north and Shia south, and more American troops can be seen on the streets. There are more raids in Baghdad. But all the average Iraqi wants is safer streets, fewer kidnappings and a little peace and quiet. Realizing that that kind of paradise is not likely to be found in the Middle East, Baghdad has been suffering a major brain drain in the past year, with the most educated fleeing for foreign countries. Europe and North America are preferred destinations, but any place with a lower crime rate will do.
rudy giuliani
"What I don't get is the nonbinding resolution. I don't get that. In the business world, two weeks spent on a nonbinding resolution would be considered nonproductive."
Unless you're producing political cover for yourselves.
shrinking zawahiri's head
Know your enemy. Shrinkwrapped:
"recently spent some time putting together a Psychoanalytic look at Zawahiri, using open source material, which may offer some illumination into the mind of a brilliant, psychopathic savage.

Although I used a number of sources, all the quotes in this post are from the New Yorker profile of Zawahiri by Lawrence Wright from 2002.
the democrats' racial hangup
Jeffrey Lord puts the Donkeys on the couch:
As President Bush ever so delicately touched on the subject in a press conference with then-Canadian Prime Minister Paul Martin: ""There's a lot of people in the world who don't believe that people whose skin color may or may not be the same as ours can be free and self-govern. I reject that stronglly...I believe that people whose skins are a different color than white can self-govern."

Left unsaid by Bush is the very, very long record of the Democratic Party in believing precisely that "people whose skins are a different color than white" cannot govern. It was, after all, Abraham Lincoln's famous Democratic opponent for both the Senate and the presidency, Stephen A. Douglas, who said: "I believe this government was made on the white basis. I believe it was made by white men, for the benefit of white men and their posterity for ever, and I am in favor of confining citizenship to white men, men of European birth and descent, instead of conferring it upon Negroes, Indians and other inferior races."

Is it any wonder that a political party that has such sentiments as its founding principles moved seamlessly from slavery to segregation to racial quotas, whose prominent adherents promote a journalist because of race, prosecute athletes because of race or rate a presidential candidate because of race, would unsurprisingly craft their foreign policy because of race? The "cumulative trauma" of their political party's childhood would not allow anything else.

Are critics of the Democrats insistence that Iraq is another Vietnam-style quagmire missing an all too obvious sign of the party traumatized by race? What, after all, do Vietnamese and Iraqi's have in common? They are people of...color. It is striking that Democratic Party history shows a repeated pattern of wanting to declare failure and come home in the Civil War, Vietnam and Iraq or opposed involvement in Grenada, the first Gulf War over Kuwait or stopping the genocide in Rwanda - all wars that involved liberating non-whites.

friday, february 16,
2007
putin the comedian
Move over, Borat. The hottest new voice in comedy is Vladimir Putin, otherwise known as the man who saved Russia from freedom and democracy. Putin convulsed his audience at the Munich Conference on Security with this sparkling one-liner:

"Nobody feels secure any more, because nobody can take safety behind the stone wall of international law."

International law has been likened to many things—gauze, cotton, clouds, tissue paper, vapor—but a "stone wall?"

Where did Putin come up with this utterly original metaphor? Perhaps from the idealistic years of his youth, when he proved his devotion to making people secure by going to work for the Committee for State Security (KGB). In his proudest assignment, Putin found safety behind an actual stone wall in Berlin and helped millions of East Germans to enjoy that safety with him, even those flighty individuals who, if left to their own devices, might have preferred to be someplace less secure.
al gore, tough guy
Democrats say Bush is bad for "rendering" suspected terrorists to secret locations. In 2005, Tigerhawk was reading Richard Clarke's book and came across this:
Snatches, or more properly "extraordinary renditions," were operations to apprehend terrorists abroad, usually without the knowledge of and almost always without public acknowledgement of the host government.... The first time I proposed a snatch, in 1993, the White House Counsel, Lloyd Cutler, demanded a meeting with the President to explain how it violated international law.

Clinton had seemed to be siding with Cutler until Al Gore belatedly joined the meeting, having just flown overnight from South Africa. Clinton recapped the arguments on both sides for Gore: Lloyd says this. Dick says that. Gore laughed and said, "That's a no-brainer. Of course it's a violation of international law, that's why it's a covert action. The guy is a terrorist. Go grab his ass."
global warming fried his brain
This letter appeared in today's LA Daily News:
"People try to discredit global warming by pointing to all the cold and snow. But can't they see the warming has broken loose all those ice shelves, which are now causing the blizzards?" -- Jerry Piro
Let's be generous to Jerry and assume he submitted this letter as a gag. Which means the editors were gullible. Let's just hope those loose ice shelves stave off the next heat wave.
A note on language: the left uses "discredit" to mean "refute." Although discredit does mean to refuse to accept something as true, it also means to deprive of good repute, suggesting an ad hominem criticism. Thus when Dick Cheney's office sought to demonstrate that Joe Wilson was a blatant liar, the news media said he was "discrediting" Wilson.
...meanwhile, about those ice sheets
A new report on climate over the world's southernmost continent shows that temperatures during the late 20th century did not climb as had been predicted by many global climate models.

This comes soon after the latest report by the Intergovernmental Panel on Climate Change that strongly supports the conclusion that the Earth's climate as a whole is warming, largely due to human activity.

It also follows a similar finding from last summer by the same research group that showed no increase in precipitation over Antarctica in the last 50 years. Most models predict that both precipitation and temperature will increase over Antarctica with a warming of the planet.
flip wilson and the ugly baby
Joe Phillips' column today reminded me of Flip Wilson. Here's one of my all time favorite Flip stories. For more Flip, listen to the feature on comedy college here.
thursday, february 15,
2007
sadr and the surge
Mark Steyn on how the New York Times views current events:
Sadr running around Baghdad: Iraq in bloody sectarian civil war.

Sadr fled to Tehran: Dangerous power vacuum in Iraq.

Sadr lying in a big hole in the ground underneath US ordnance dropped from a great height: Beloved martyr whose death will be a recruiting tool across the Muslim world.

Sadr polling a strong third among GOP primary voters in New Hampshire: He's a popular centristinsurgent who represents many moderate Republicans' wish to move beyond the partisan bitterness of the Bush years.

Sadr discovered to be the cause of climate change: Rumsfeld sold him a second-hand Cadillac Escalade in the Eighties.
Indeed.
take this quiz
Can you tell Sunni from Shiite? Find out here.
a lesser torture
School really got under my skin. How deep? Well, I had a recurring dream until I was at least 35 in which I had registered for a class, say French, and had forgotten about it until finals, when it dawned on me that I was doomed.
This became the basis for a great scene in a hilarious movie, Top Secret!
JPod at The Corner reminded me of it.
life in iraqi kurdistan
...is looking up. For all those eager to write off the liberation of Iraq as a dismal failure, I like to see them explain that face-to-face with these people.
Check out this multimedia presentation by photojournalist Ed Kashi.
why the north korea deal is bad for iran
Assuming for the moment that the Six Parties and the IAEA can eventually complete the task, why did North Korea agree to nuclear disarmament when it so stubbornly resisted this concession for so many years?

First, and most important, the Chinese government seems to have lost its patience with North Korea. In the past, the Chinese saw North Korea as a useful irritant and a costly distraction to the U.S. and Japan. But lately, North Korea's actions have strengthened the U.S.-Japan alliance, increased U.S. influence in Asia, and brought on a military buildup in the western Pacific unfavorable to China. For China, North Korea changed from an asset to a liability.

Second, U.S. financial sanctions against North Korea have proved to be surprisingly effective at hurting the lifestyles of North Korea's leaders. Kim Jong-il may have faced an internal revolt as a result of these financial and luxury goods sanctions.

The Iranian government has suffered a large defeat from this agreement. The Iranians were partners with North Korea on both nuclear weapons research and on ballistic missiles. The Iranians hoped to use proven North Korean designs for their programs. Now, the Iranians will not get a proven nuclear weapon design from North Korea. As for an ICBM, the North Koreans may abandon that program, too – such a missile would be pointless without a nuclear warhead.

Most worrisome for Iran however is the precedent set by the North Korean process. The U.S., Japan, Europe, and other concerned parties will have learned that sanctions can work to change a regime's behavior. The Six Parties and the UN Security Council cut off North Korea's leadership from the global banking system and from their access to luxury goods. Did this succeed in changing North Korean behavior? To the extent that the Europeans, Russia, and China care about an Iranian nuclear weapons program, they will now have a sanctions model that targets a regime's leadership to employ. Having thus seen it work, they will be encouraged to employ it again.
showing up is 80 percent of success
..said Woody Allen. Barack Obama must've been listening because as an Illinois legislator, when the tough issues came to a vote, he was, well, present. And not much more.
While some conservatives and Republicans surely will harp on what they call his "liberal record," highlighting applicable votes to support their case, it's Obama's history of voting "present" in Springfield--even on some of the most controversial and politically explosive issues of the day--that raises questions that he will need to answer. Voting "present" is one of three options in the Illinois Legislature (along with "yes" and "no"), but it's almost never an option for the occupant of the Oval Office.

For example, in 1997, Obama voted "present" on two bills (HB 382 and SB 230) that would have prohibited a procedure often referred to as partial birth abortion. He also voted "present" on SB 71, which lowered the first offense of carrying a concealed weapon from a felony to a misdemeanor and raised the penalty of subsequent offenses.

In 1999, Obama voted "present" on SB 759, a bill that required mandatory adult prosecution for firing a gun on or near school grounds. The bill passed the state Senate 52-1. Also in 1999, Obama voted "present" on HB 854 that protected the privacy of sex-abuse victims by allowing petitions to have the trial records sealed. He was the only member to not support the bill.

In 2001, Obama voted "present" on two parental notification abortion bills (HB 1900 and SB 562), and he voted "present" on a series of bills (SB 1093, 1094, 1095) that sought to protect a child if it survived a failed abortion. In his book, the "Audacity of Hope," on page 132, Obama explained his problems with the "born alive" bills, specifically arguing that they would overturn Roe v. Wade. But he failed to mention that he only felt strongly enough to vote "present" on the bills instead of "no."

And finally in 2001, Obama voted "present" on SB 609, a bill prohibiting strip clubs and other adult establishments from being within 1,000 feet of schools, churches, and daycares.
Oh, the audacity of gutlessness.
wednesday, february 14,
2007
but is he still "clean?"
I have good news for everyone offended by the description of Sen. Barack Obama as "articulate." He has quickly shed any claim to that label. Indeed, Obama's remarks this week about American troops killed in Iraq were a bumbling, incoherent mess. You may now refer to him officially as the Inarticulate Barack Obama. (As for judging his current level of cleanliness and brightness, you know that's Joe Biden's milieu.)

At one of his opening presidential campaign events on the Iowa State University campus this weekend, Obama pandered energetically to the antiwar crowd. With his smooth voice rising and thousands of fans goading him on, he proclaimed: "We ended up launching a war that should have never been authorized, and should have never been waged, and to which we have now spent $400 billion and have seen over 3,000 lives of the bravest young Americans wasted."

Yes, "wasted." Squandered. Pointless. Down the drain. Meaningless. Video footage of the speech shows Sen. Obama delivering his scripted words carefully and confidently. No umms or ahhs or pauses as he argued that each and every member of the military who volunteered to serve and died in Iraq "wasted" his/her life.
judging obama by the thickness of his skin
For a man who couldn't wait to inject himself into the national arena, and who has spent so much time writing books about himself, the senator is oddly put off by press inquisitiveness.

No fewer than three times last week, Mr. Obama got indignant about the beach-babe attention given to a shot of him in the Hawaiian surf ... He poses for the cover of Men's Vogue and then gets huffy when people don't treat him as Hannah Arendt.

After talking to high school journalists, he took a sniffy shot at the loutish reporters who were merely whispering where's the beef: "Take some notes, guys, that's how it's done."

When The Times's Jeff Zeleny asked him on his plane whether he'd had a heater in his podium during his announcement speech in subzero Springfield, Mr. Obama hesitated. He shot Jeff a look that said, "Are you from People magazine?" before conceding that, unlike Abe Lincoln, he'd had a heater.

Take some notes, senator, that's how it's done.

... he's so hung up on being seen as thoughtful that he sometimes comes across as too emotionally detached and cerebral with crowds yearning for an electric, visceral connection. J.F.K. mixed cool with fire.
The Illinois senator didn't have on an implacable mask of amiability, as Hillary did in Iowa. He didn't look happily in his element, like Bill Clinton.

the 45-year-old had moments of looking conflicted.

... he seemed a bit dazed by his baptism into the big-time.

He was a tad testy.
make yourself at home -- we dare you
An innovative new housing project in Tokyo aims to keep residents sharp by throwing them off balance. Duck!

Most people, in choosing a new home, look for comfort: a serene atmosphere, smooth walls and floors, a logical layout. Nonsense, says Shusaku Arakawa, a Japanese artist based in New York. He and his creative partner, poet Madeline Gins, recently unveiled a small apartment complex in the Tokyo suburb of Mitaka that is anything but comfortable and calming. "People, particularly old people, shouldn't relax and sit back to help them decline," he insists. "They should be in an environment that stimulates their senses and invigorates their lives."

With that in mind, Arakawa and Gins designed a building of nine apartments known as Reversible Destiny Lofts. Painted in eye-catching blue, pink, red, yellow and other bright colors, the building resembles the indoor playgrounds that attract toddlers at fast-food restaurants. Inside, each apartment features a dining room with a grainy, surfaced floor that slopes erratically, a sunken kitchen and a study with a concave floor. Electric switches are located in unexpected places on the walls so you have to feel around for the right one.

A glass door to the veranda is so small you have to bend to crawl out. You constantly lose balance and gather yourself up, grab onto a column and occasionally trip and fall. Even worse, there's no closet space; residents will have to find a way to live there, since the apartment offers only a few solutions. "You'll learn to figure it out," says Arakawa. Ten minutes of stumbling around is enough to send even the healthiest young person over the edge. Arakawa says that's precisely the point. "[The apartment] makes you alert and awakens instincts, so you'll live better, longer and even forever," says the artist.
Just what old people need -- a new way to fall down.
dubai builds a new world
...a string of innovative real estate projects coming out of Dubai. Landmark developments such as The Palm have captured the imagination of magazine and newspaper editors across the globe, with images of Dubai's futuristic projects spread across a succession of international publications. However, nothing prepared journalists for Nakheel's awe-inspiring new project - The World.

The World is a series of 223 man-made islands, strategically positioned to form the shape of a map of the world. Located five kilometers off the coast of Dubai, The World will be 3.4 miles in both length and width, covering 60 million square feet, including 10 million square feet of beach. The concept was conceived by General Sheikh Mohammed bin Rashid al Maktoum, Dubai Crown Prince and UAE Minister of Defense.

"We will be creating 223 islands," says Mr. Bin Sulayem. "Each island cluster will be positioned in a way to look like a continent and islands clustered together will make a country. The design is now finished, the tender is analyzed, and we are about to begin work on reclamation, which will take around two years."
position wanted
Iowahawk posts Amanda Marcotte's resume. Funny stuff if you've been following the story.
mookie surges to iran
Muqtada Al Sadr goes shopping for Persian rugs. Or maybe he's just hiding.
valentines day. bah humbug!
by J.C. Phillips
I hate Valentines Day! There. I said it. The holiday causes me undue stress and is filled with unreasonable expectations that take the fun out of seduction. And seduction is what makes the world go 'round at least as it pertains to the sexes.
Though I have been married for almost 13 years, I do not claim any expertise. Nor do I indulge in the fantasy that my marriage is perfect -– far from it. I work at it, but somehow still manage to have days where my wife's lips are poked out, and I am left scratching my head wondering what happened.
But neither have I sleep walked through the last 15 years. The ups and downs of a decade and a half with the same woman have taught me more than a thing or two about relationships. It took several years, but after much yelling and gesticulation, I have learned that though men may be the head of the household with God at the head of the house, men are in charge of nothing. Women run the show. No matter how loud a man threatens or how much logic he brings to an argument, a woman is not going to do anything she doesn't want to do and that is just life in the big city. It is also why God gave men the gift of seduction. (He also gave men the art of manipulation, but that is not what I am talking about.) I am referring to an honest, gentle, loving, prod a husband gives his wife in the direction she already wants to go.
It is a great irony to me that single men walk around as if they have cornered the market in seduction. When I was single, I was under the same delusion. The truth is that married men are the true experts at seduction. Year after year, Valentine's Day rolls around and a single guy can pull out the same tired box of roses and get over like a fat rat. For the married man, the bar is raised and he must constantly invent new ways to seduce his wife. In my house, doing the laundry beats a box of chocolate any day of the week. But I digress.
Seduction works because it is unexpected. February 14th is a neon sign announcing the day men will seduce and that is hard work indeed when the seduced is watching, waiting to see what you do and grading your performance.
As a single man, I dreaded February 14th. There is nothing as lonely as being without a date on Valentine's Day. Even when I had a companion, Valentine's Day was no party. The only thing worse than not having a date is being on a date and wishing you were sharing Valentine's Day with someone else. Been there, done that. And of course always pressure, pressure, pressure! Is she expecting a gift? Are flowers appropriate? Perhaps just a card? But if I want to unlock the gates to the kingdom, I had better make reservations and pick up some jewelry. And at the end of the evening, what will it all mean?
I thought things would become easier once I got married. I would never be without a date and expectations would be pretty clear. We would be going home together at the end of the evening whether we liked it or not. My wife is fairly easy going, which is to say she has a long memory and a long fuse. It's not that she doesn't want all the hoopla; it's just that if I don't do it she doesn't get upset until much later when my failure to offer sacrifices at her feet invariably comes up in an argument about the depth of my devotion. See? The married guy has to buy dinner AND do the laundry!
I do not begrudge a day to celebrate the love we have for our significant others, but who needs all the anxiety?
tuesday, february 13,
2007
take D'Souza out with d'trash
After 9/11, many leftists cited American faults that supposedly accounted for Osama bin Laden's savage attack.

The late Susan Sontag, for example, justified the terrorists' suicide bombing: "Where is the acknowledgment that this was not a 'cowardly' attack on 'civilization' or 'liberty' or 'humanity' or 'the free world' but an attack on the world's self-proclaimed superpower, undertaken as a consequence of specific American alliances and actions?"

But there were also those on the right who argued that the jihadists' furor was payback for our own sins.

Rev. Jerry Falwell pronounced that America the godless had gotten what it deserved: "Pagans and the abortionists and the feminists and the gays and the lesbians who are actively trying to make that an alternative lifestyle . . . I point the finger in their face and say, 'You helped this happen.'"

Now there is another angle to the "blame America" game, this time from the secular right. In his book The Enemy at Home, Dinesh D'Souza, of the Hoover Institution (where I work as well), charges that our decadent culture turns off traditional Muslims — otherwise the potential allies of American conservatives — and often renders them sympathetic to jihadist rhetoric.

He then goes further, arguing that the cultural permissiveness and obscenity of our leftists indirectly created a bin Laden. Now in a de facto alliance with the terrorists, the Left, according to D'Souza, plots an end to traditional America.

D'Souza's solution is for conservatives here to embrace conservative Muslims, in a shared struggle against both the American left that misrepresented us and the jihadists who now misrepresent them.

But D'Souza's strained effort to fault millions of Americans for 9/11 proves no more convincing than was Susan Sontag's or Jerry Falwell's.
quote of the day
"We learn from history that we learn nothing from history." -- George Bernard Shaw
sue god for malicious climate change
Satire from the People's Cube:
Fight against climate change has taken a new dimension Monday as a new legal defense group, Spiritual Lawyers Against Natural Disasters (SLAND), initiated international class-action litigation against God for the environmental destruction and Global Warming that has resulted from acts that He has caused to occur.

"For many years enviro-activists, spearheaded by Al Gore and financed by trial lawyers, have been pointing to human greed, oil industries, and Western capitalism-based societies as the main causes of Global Warming," said SLAND lead attorney and Executive Director, Peacedove Handwring at a press conference. "While all these factors are a fine cause for international insurance litigation, the primary culprit of climate change that is more powerful and more difficult to deal with, has so far escaped attention of our lawyers. That culprit is God."
minimum wage boost squeezes arizona teenage workers
File this under "We told you so."
Oh, for the days when Arizona's high school students could roll pizza dough, sweep up sticky floors in theaters or scoop ice cream without worrying about ballot initiatives affecting their earning power.

That's certainly not the case under the state's new minimum-wage law that went into effect last month. Some Valley employers, especially those in the food industry, say payroll budgets have risen so much that they're cutting hours, instituting hiring freezes and laying off employees.

And teens are among the first workers to go.

Companies maintain the new wage was raised to $6.75 per hour from $5.15 per hour to help the breadwinners in working-poor families. Teens typically have other means of support.

Mark Messner, owner of Pepi's Pizza in south Phoenix, estimates he has employed more than 2,000 high school students since 1990. But he plans to lay off three teenage workers and decrease hours worked by others. Of his 25-person workforce, roughly 75 percent are in high school.

"I've had to go to some of my kids and say, 'Look, my payroll just increased 13 percent,' " he said. " 'Sorry, I don't have any hours for you.' "
gore gets czech mated
From the DrudgeReport, Czech president Vaclav Klaus heaps heavy scorn on the Global Warming/Green Scare crowd. You gotta enjoy a head of state who is so unapologetically undiplomatic.
Q: IPCC [the UN] has released its report and you say that the global warming is a false myth. How did you get this idea, Mr President?

A: It's not my idea. Global warming is a false myth and every serious person and scientist says so. It is not fair to refer to the U.N. panel. IPCC is not a scientific institution: it's a political body, a sort of non-government organization of green flavor. It's neither a forum of neutral scientists nor a balanced group of scientists. These people are politicized scientists who arrive there with a one-sided opinion and a one-sided assignment. Also, it's an undignified slapstick that people don't wait for the full report in May 2007 but instead respond, in such a serious way, to the summary for policymakers where all the "but's" are scratched, removed, and replaced by oversimplified theses.

This is clearly such an incredible failure of so many people, from journalists to politicians. If the European Commission is instantly going to buy such a trick, we have another very good reason to think that the countries themselves, not the Commission, should be deciding about similar issues.
My favorite:
Q: Don't you believe that we're ruining our planet?

A: I will pretend that I haven't heard you. Perhaps only Mr Al Gore may be saying something along these lines: a sane person can't. I don't see any ruining of the planet, I have never seen it, and I don't think that a reasonable and serious person could say such a thing. Look: you represent the economic media so I expect a certain economical erudition from you. My book will answer these questions. For example, we know that there exists a huge correlation between the care we give to the environment on one side and the wealth and technological prowess on the other side. It's clear that the poorer the society is, the more brutally it behaves with respect to Nature, and vice versa.

It's also true that there exist social systems that are damaging Nature - by eliminating private ownership and similar things - much more than the freer societies. These tendencies become important in the long run. They unambiguously imply that today, on February 8th, 2007, Nature is protected uncomparably more than on February 8th ten years ago or fifty years ago or one hundred years ago.

That's why I ask: how can you pronounce the sentence you said? Perhaps if you're unconscious? Or did you mean it as a provocation only? And maybe I am just too naive and I allowed you to provoke me to give you all these answers, am I not? It is more likely that you actually believe what you say.
monday, february 12,
2007
short lived
A German court has decided to release Brigitte Mohnhaupt, who served 24 years for her part in the Baader-Meinhof Gang's murderous battle against the West German establishment in the 1970s. The decision has divided Germany. Has she been punished enough or should she have been left in jail until she showed remorse?

A German left-wing terrorist Brigitte Mohnhaupt, serving five life sentences for her involvement in a 1970s campaign of murder, kidnapping and bomb attacks that traumatised Germany, is to be released on parole in March after serving 24 years in jail, a court ruled on Monday.
That works out to 4.8 years per life sentence. Who knew the Germans were so short lived?
dog hugs baby
Photos guaranteed to make you go "awww..."
government planning
The Chinese government instituted a one-child policy in the late 1970s. With easy access to abortion and, a cultural bias toward male children, you can guess the result: too many boys, not enough girls.
"It's having a real effect," said Ms Zheng, the school's head teacher.

"One of our classes has 39 boys and just eight girls. It's a serious problem. When there are more boys than girls, the girls copy the boys and they become more aggressive," she said.

At break time, the girls need to be pretty good at defending themselves. One girl beats off four boys who try to have a look at what she was drawing.
bit parts: the scream heard 'round the world
The scream you hear over and over and over in movies -- recorded in 1951.
better off
John Burns, New York Times correspondent, has lived in Iraq before and after the demise of Saddam. He was inteviewed on the Hugh Hewitt radio show:
...I need to say something about opinion polling in Iraq, because opinion polls tend to tell you something different. But I think opinion polling in Iraq is extremely misleading, because opinion is intimidation led. It was under Saddam. If CNN posed a camera in the face of somebody on the street in Baghdad in the fall of 2002, when the war was looming, and they said are you with Saddam or are you with George Bush, well of course, 100% of all Iraqis who were asked that question said they were with Saddam. What else could they do? They didn't…they were going to end up in Abu Ghraib on the end of a rope.

Of course the situation changed somewhat, but any Iraqi who is asked now a question like do you regard American troops as occupation troops, do you want them out, is wise, given the fact that American troops may be in the neighborhood for 30 minutes, but the bad guys are in the neighborhood for 24 hours, it's wise to give a heavily, carefully calibrated answer, which does nothing to upset the bad guys. So yes, I do believe, number one, that most Iraqis still believe that for all of the price they have paid, amidst all of this chaos, that the possibility of a different kind of future for the country that was opened by the arrival of American troops was net an advantage.

Let's look at what happened after the hanging of Saddam. There were protests, but they were not very widespread, they were not very protracted. Saddam had very little legacy left at the end. The problem was not Saddam. The problem is that the Sunni minority in Iraq has not reconciled to the loss of power. That explains a great deal about the war. It was a frozen society. It was an unbelievably brutal society. And most Iraqis, and this is beyond doubt, and I include in this Sunnis, yearned to be relieved of it. And when America did that for them, it was after many, many years of Iraqis attempting to overthrow Saddam, failing, and paying an incredible price for it. So I think that we'd have to remember that in making an assessment of what happened.

As for what has happened since, and the American mistakes, when I said if it fails, it won't be because of American mistakes, what did I mean by that? Of course, if there hadn't been some of the mistakes that were made along the way, the situation might be somewhat better. But my sense of it is that if it fails, that history may say it was mission impossible from the beginning, which is to say that when you remove the carapace of terror that Saddam had imposed on that society, what was revealed underneath it was an extremely fractured society which had never resolved the question of power, political and economic power, and how it was going to be divided between the principal communities, mainly Sunni and Shiites.

That's the situation the United States inherited, it's the situation which continues to fuel the violence there, and it may be that history will say that the china shop rule, the power rule, you break it, you own it, might have been well to consider beforehand, not because Iraqis didn't want him overthrown, Saddam overthrown. They did want him, and there was scenes of liberation in the streets of Iraq afterward. But you know, this is an extremely complex, extremely violence-prone society, a society that has proven to be resistant to, not yet ready for, and maybe will not be ready for a very long time, for Jeffersonian democracy of the kind that the United States hopes to install there. We'll have to see what history's verdict is, but my sense is that Iraqis still, in the main, are happy at least that Saddam is gone, very unhappy about other things, but happy to see him gone.
After Hugh asked him about the American military:
I can speak to you about how we correspondents at the New York Times feel about the American military in Iraq. We have covered the disasters. We've covered what happened at Abu Ghraib. We've covered what happened at Haditha. But I think I could say this on behalf of all of us who work at the New York Times, and who depends a great deal for our security on American forces, governments…there's an old saying that countries get the kind of governments they deserve. Well, I would say that may be true also of the military.

And the United States military that we encounter are wonderful. They're magnificent. They're extremely brave, that goes without saying. They make an enormous effort to perform a civic as well as military duty in Iraq. They are people of honor, and they're people of whom America can be proud. And I say that without…in an unhyphenated, unqualified way, and I hope that that finds its way into the columns of the New York Times, in the way that we report on this war. America has a fine military, a fine Army, a fine Marine Corps and Navy, and whereas we experience, it, and they're in an extremely difficult situation, what General Casey, the departing commander describes as a very convoluted situation from which there is no certain, safe, successful exit.
faustian bargain
Heather MacDonald shines a light on the new president of Harvard:
Faust runs one of the most powerful incubators of feminist complaint and nonsensical academic theory in the country. You can count on the Radcliffe Institute's fellows and invited lecturers to proclaim the "constructed" nature of knowledge, gender, and race, and to decry endemic American sexism and racism. Typical guest speakers include left-wing journalists Susan Faludi and Barbara Ehrenreich.

At Radcliffe, Faludi argued that 9/11 had triggered yet another "backlash against feminism," while Ehrenreich lectured on "Weird Science: Challenging Sexist Ideology Since the 1970s." It is received truth among Radcliffe Institute lecturers that obstacles throughout American society block women's progress. Radcliffe speaker Rebecca Walker, for example, has created the "I Spy Sexism" initiative, which asks young women between the ages of 15 and 30 to keep logs of the "sexism, racism, and homophobia" that they see as they walk down the street or go to a movie.

With typical feminist hypocrisy, Faust has managed to wield massive power even as she rues female powerlessness. She headed the Task Force on Women Faculty, created after the firestorm over Summers's recklessly honest speculations about women in science, that strengthened the feminist hold on faculty hiring and promotions. The Task Force won a $50 million commitment to increase faculty "diversity efforts" at Harvard, notwithstanding that for decades the university has tied itself in knots trying to increase female and black faculty representation.

Faust's Task Force also muscled into existence a remarkable new bureaucratic sinecure: the Senior Vice Provost for Diversity and Faculty Development. This new official sits with the president, the provost, and the deans of faculties, in order to push "diversity" quotas in every corner of the university's academic operations. Naturally, Harvard gave the new position to one of Faust's two co-chairs on the Task Force: Evelyn Hammonds, a professor of the history of science, and of African and African-American studies, who specializes in discerning bias against minority women in science and medicine. (Please do not question how Hammonds's unobstructed rise through the most elite American universities comports with her thesis of pervasive discrimination against black women.)
sunday, february 11,
2007
poutin' putin
It's long fall from being one of the world's two superpowers to being a corrupt, fading backwater with a declining population, declining influence, massive alcoholism and a life expectancy lower than Bangladesh.
Hey, blame Marx and Lenin, not us.
broken narrative
Since 2003, Democrats have peddled the story that Bush deceived them (and the world) into believing that Saddam was a threat to America and that Saddam was connected to 9/11. This whooper was their political cover for having supported the war.
This brazen BS underlies many of the lie's various spin-offs, including the one about how Bush, et al, punished poor Valerie Plame and Joe Wilson for blowing the whistle on their scheme. Lewis Libby is on trial because of that fiction.
If we had a non-partisan media, the Democrats would have been laughed off the stage. Instead, the news media played Democrat spin as fact, often ignoring their own reporting.
Case in point: in 1999 ABC News broadcast a 2.5 minute report connecting Saddam Hussein and Osama bin Laden. Bush was still in Texas, so you can't blame him for inventing the idea.
Why didn't ABC simply admit they promoted the connection between Iraq and Al Qaeda, along with many other media outlets?
Yesterday, Powerline posted a link to the ABC News report. We've had the clip here for a while in our Big Lie section.
As one commentor at Powerline noted:
What I find especially aggrivating is that last night when ABC News opened with the Pentagon Inspector General's report both their reporter and anchor ended up shaking their heads that Douglas Feith showed no contrition over his "error".
Right -- an error that ABC once promoted. ABC's amnesia is grossly hypocritical.
How could anyone believe a word ABC says?
Honest politicians and honest news media would simply admit that intelligence is always imperfect, that Saddam claimed to possess WMD, behaved like he had WMD, that Saddam's own generals thought they had WMD, and that in a post-9/11 world the risk of not acting against Saddam was too great.
No blame needed to be assessed, unless the objective was to undermine a president and win votes for Democrats.
EXTRA CREDIT: When Bill Clinton was president, the Justice Department indicted Osama bin Laden. The indictment included language...
...that Al Qaeda reached an agreement with Iraq not to work against the regime of Saddam Hussein and that they would work cooperatively with Iraq, particularly in weapons development.
RELATED: Don Surber on Hillary's war amnesia.
pelosi blinks
Last month we posted about Nancy Pelosi's incessant blinking during the State of the Union address. Letterman has fun with it, but notice how he makes Cheney the butt of the joke.
north korea blinks
Remember how John Kerry blamed Bush for not halting North Korea's nuclear program? Kerry wanted bi-lateral talks along with multilateral talks, one of his dumber ideas (and there are plenty to choose from). Well, it appears the Bush administration's approach is bearing fruit.
...officials at the White House and the State Department were preparing for a major announcement this weekend, and described the agreement as very different from the nuclear freeze that the Clinton administration negotiated in 1994. That agreement ultimately fell apart, and the North has produced enough fuel for more than half a dozen nuclear weapons during President Bush's term.

"This is the Libya model," said one senior administration official, referring to Libya's decision in late 2003 to turn over all of the equipment it had purchased from the secret nuclear network run by the Pakistani scientist, Abdul Qadeer Khan, to produce bomb fuel. In that agreement, both the Libyans and the United States executed a series of steps, in a carefully negotiated order, that rid the country of nuclear technology and ended its isolation.
This is not a "freeze," such as that negotiated by the unilateralist Clinton administration, which would leave Pyongyang in a position to restart its program with but a single decision. It is, apparently, a verifiable elimination of North Korea's program. And if it is indeed as transparent as the Libya deal, we will learn an awful lot about the extent of Pyongyang's illegal proliferation. It would be useful to know whether the North Koreans have, for example, been helping Iran (the revelation of which would fairly decisively confirm the "axis" part of the "Axis of Evil").

At the end of the process the United States and Japan will recognize North Korea. We will have an embassy in Pyongyang, and that means we have a channel for spying on North Korea.

Now, there is no deal yet. However, according to the BBC, the principle outstanding issues are among the five parties -- such are the perils of multilateralism -- and not between the five parties and North Korea.
As for Democrat naysayers, they are legion:
If North Korea does surrender its nukes and go genuinely transparent, it will be because George W. Bush insisted that we work with our traditional allies, engage our geopolitical rivals, avoid unilateralism, work within international institutions, respect international law, and refrain from the preemptive use of force, all notwithstanding the demands of Democrats and the mainstream media.

At the risk of perhaps jinxing the final deal, let's review the peanut gallery's opinions of the Bush administration's approach to North Korea:

Illinois Senator Dick Durbin, October 11, 2006:

Democrats such as Sen. Dick Durbin of Illinois blamed North Korea's reported nuclear test in part on Bush's decision to not negotiate directly with the country, as the Clinton administration did. Durbin also said the Bush administration was distracted from North Korea by the "pre-emptive" war in Iraq. "It is clear that the Bush approach has failed," he said.

Representative Tom Lantos (D-CA), November 16, 2006:
In the aftermath of the test, "it is now abundantly clear to the world that our current policies have failed," said Lantos, who will wield the gavel when the new Congress convenes in January.

Wisconsin Senator Russ Feingold, October 9, 2006
A potential 2008 Democratic presidential contender, Sen. Russ Feingold of Wisconsin issued a statement denouncing Bush for using the vehicle of six-nation talks involving China and Japan to try to persuade North Korea to forego its nuclear weapons ambitions.

Sunday's nuclear test, Feingold said, showed "the weakness of the Six Party approach as well as the danger of this Administration's hands-off approach to North Korea."

He added, "the stakes are too high to rely on others to address the North Korean crisis."

Democratic National Committee Chairman Howard Dean, October 9, 2006:
Where Democrats usually criticize Bush for what they call a "go it alone" strategy in Iraq, on Monday some Democrats took the opposite tack, criticizing him for being too multilateral and not unilaterally negotiating with North Korea.

"Bush aided and abetted the outsourcing of American jobs, and now he's outsourced our diplomacy as well," Democratic National Committee chairman Howard Dean cracked.

Senator Harry Reid, September 14, 2006:
"On President Bush's watch, and with the Rubberstamp Republican Congress in tow, North Korea's nuclear threat has quadrupled. Though Bush Republicans have allowed North Korea's plutonium stockpile to increase, Democrats are fighting to provide the real security Americans deserve. I urge President Bush to appoint the new North Korea policy coordinator recently called for in the Defense Authorization Bill. With South Korean President Roh Moo-Hyun in Washington today, the President has an opportunity to change course from failed policies that have made America less safe.

Senator Carl Levin, January 13, 2003: Sen. Carl Levin of Michigan said in a political debate program on the Fox network that the Bush administration should meet face-to-face with North Korea so as to prevent any miscalculations, adding such action would not mean compromising or surrendering.
No doubt all of these fine statesmen will rush forth to eat their words, and congratulate the Bush administration for its diplomatic triumph.
saturday, february 10,
2007
pat dollard hits back
He used to be Steven Soderbergh's agent. Then he went off to the sandbox with his camera and embedded with the Marines in Ramadi, home base for Al Qaeda in Iraq. He shot a pro-war documentary there called "Young Americans" and along the way got blown out of a humvee when it was hit by a roadside bomb. There's a photo of the wreckage at his website.

Pat Dollard, interesting guy.

The left naturally hasn't forgiven him his career change. The latest example is Vanity Fair dropping a 10,000-word hit piece on him, which occasioned his appearance last night on "Red Eye." Kudos to Gut and Levy for having him on. Here he explains why a Hollywood millionaire would want to get in the ring with terrorists and just how big of a jackass George Clooney really is.
Watch video of Pat on Fox News last night.
the narcissism of small differences
From Maggie's Farm:
"The narcissism of small differences" was Freud's 1917 term for his observation that people with minor differences between them can be more combative and hateful than those with major differences. It is a handy concept.

He viewed this as a narcissistic issue because the distress comes from looking in the mirror, as it were, and seeing a pimple.

What it is about is that we want all of "us" to think exactly like us - that is, perfectly, and the "others" be damned - who cares? Until the "others" give us big trouble.

Freud's psychoanalytic "movement" was repeatedly fractured by such things. Pioneers advanced into the human unconscious, and focused on different aspects, and fought and lost friendships over it. In the end, Freud was usually correct, because he had the courage to tell the often-unpleasant, unpopular, and uncivilized truths about deep human nature.

Of course, the narcissism of small differences often applies to politics. But my best joke on the subject, from a long-past post, concerns religion:
Follow the link to read the joke.
hey, you deniers
Canada's National Post compiled an 11-part series just for you.
why aren't u.s. sports fans as violent as europeans?
Freakonomics poses the question:
In Sicily last Friday, during a soccer match between Catania and Palermo, fans rioted outside the stadium with bombs and steel pipes, resulting in the death of a police officer. As a result, most soccer matches throughout Italy this weekend will be played in empty stadiums. That's right: fans are being barred from soccer games until the authorities can figure out how to stop them from killing people.

Soccer hooliganism is no surprise to anyone who's followed the sport, or read Among the Thugs, or even How Soccer Explains the World. "We are talking about a cancer, not a seasonal flu," one soccer commentator wrote after this latest example of soccer violence. But reflecting upon this recent killing, I am surprised to think about how U.S. sports fans are, relatively, so much more non-violent.
more magical thinking
There is a virus sweeping the world. It infects opponents of the Bush government, sucks their brains out through their eyes and turns them into gibbering idiots. First cultivated in a laboratory in the US, the strain reached these shores a few months ago. In the past fortnight, it has become an epidemic. Scarcely a day now passes without someone possessed by this sickness, eyes rolling, lips flecked with foam, trying to infect me.

The disease is called Loose Change. It is a film made by three young men that airs most of the standard conspiracy theories about the attacks of September 11 2001. Unlike the other 9/11 conspiracy films, Loose Change is sharp and swift, with a thumping soundtrack, slick graphics and a calm and authoritative voiceover. Its makers claim that it has now been watched by 100 million people.

The Pentagon, the film maintains, was not hit by a commercial airliner. There was "no discernible trace" of a plane found in the wreckage, and the entrance and exit holes in the building were far too small. It was hit by a cruise missile. The twin towers were brought down by means of "a carefully planned controlled demolition". You can see the small puffs of smoke caused by explosives just below the cascading sections. All other hypotheses are implausible: the fire was not hot enough to melt steel and the towers fell too quickly. Building 7 was destroyed by the same means a few hours later.
Read on.
mark cuban's cure for the music industry
hillary and hugo: what a pair
Hugo Chavez is busy seizing private property in Venezuela in order to help the working man. That always works out well, as the starving millions in Zimbabwe will attest.
Last year the oil companies did big business. They did so because lots of people wanted to buy their product, oil. As anyone who took Economics 101 understands, when the demand for any product increases and the supply doesn't increase as quickly, the price goes up.
To summarize:
Exxon et al, post record oil sales because of record demand
Oil sells for higher prices because of limited supply
Record sales volume at higher prices = record profits
That's the free market at work. And it does work; as high prices encouraged people to economize, demand dropped and so did prices. (The MSM floated the notion that the GOP was cutting gasoline prices in time for the November election. If so, why didn't they jack 'em back up when the Dems won?)
Still, people with an exaggerated sense of entitlement, which is to say, much of the America, seethe at the idea that Exxon made money, oodles of it, some $39 billion. Nurturing grievance is political alchemy, and the latest to to bluster about Big Oil is that bomb-throwing '60s throwback, Hillary Rodham Clinton, who told the DNC gathering last week:
"I want to take those profits and put them into an alternative energy fund that will begin to fund alternative smart energy alternatives that will actually begin to move us toward the direction of independence."
Yeah? Well, I wanna take some of Oprah's billions and get me a hot tub -- one with all those jazzy jets to soothe my aching back. But Oprah's dough is Oprah's dough. I'm not arrogant enough to think I have any right to what another earned.
Not so Hillary. For all her calibrated nuancing and triangulating to seem what she ain't, she's an anti-capitalist through and through. And a meddling know-it-all to boot.
"I want to take those profits..."
I shiver at the thought of that woman anywhere near the White House.
JB
friday, february 9,
2007
global cooling costs too much
Earth got about 0.7 degrees Celsius warmer in the 20th century while it increased its GDP by 1,800 percent, by one estimate. How much of that 0.7 degrees can be laid at the feet of that 1,800 percent is unknowable, but let's stipulate that all of the warming was the result of our prosperity and that this warming is in fact indisputably bad (which is hardly obvious).

That's still an amazing bargain. Life expectancies in the United States increased from about 47 years to about 77 years. Literacy, medicine, leisure and even, in many respects, the environment have improved mightily over the course of the 20th century, at least in the prosperous West.

Given the option of getting another 1,800 percent richer in exchange for another 0.7 degrees warmer, I'd take the heat in a heartbeat. Of course, warming might get more expensive for us (and we might get a lot richer than 1,800 percent too). There are tipping points in every sphere of life, and what cost us little in the 20th century could cost us enormously in the 21st — at least that's what we're told.

And boy, are we told. We're (deceitfully) told polar bears are the canaries in the global coal mine. Al Gore even hosts an apocalyptic infomercial on the subject, complete with fancy renderings of New York City underwater.

Skeptics are heckled for calling attention to global warming scare tactics. But the simple fact is that activists need to hype the threat, and not just because that's what the media demand of them. Their proposed remedies cost so much money — bidding starts at 1 percent of global GDP a year and rises quickly — they have to ratchet up the fear factor just to get the conversation started.


The costs are just too high for too little payoff. Even if the Kyoto Protocol were put into effect tomorrow — a total impossibility — we'd barely affect global warming. Jerry Mahlman of the National Center for Atmospheric Research speculated in Science magazine that "it might take another 30 Kyotos over the next century" to beat back global warming.
Read it all. Plus, read Goldberg's harsh words for Ellen Goodman for equating Green Scare skeptics with Holocaust deniers.
what did you learn in school today, farzam?
Why, father, I learned that America is the great Satan:
Textbooks used in Iran's schools are instilling students with hatred toward the West, especially the United States, and urging them to become "martyrs" in a global holy war against countries perceived to be enemies of Islam, a new study says.

An Iranian human rights activist, Ghazal Omid, praised the findings, saying they prove hard-liners in Iran are using the books to turn children into "ticking bombs."

However, a U.S. academic who specializes in Iran and Islam, and a former Iranian teacher said they believe the textbooks are a reflection of Iran's history and its deep suspicions of the West, not an effort to turn students into terrorists.

The books emphasize the teachings of the late Ayatollah Ruhollah Khomeini and repeatedly refer to the United States as the "Great Satan" and to Israel as "the regime that occupies Jerusalem," said the study by the Israel-based Center for Monitoring the Impact of Peace.
greenland's glaciers take a breather
Greenland isn't melting as fast as we feared.

It was big news when the rate of melting suddenly doubled in 2004 as ice sheets began moving more quickly into the sea. That inspired predictions of the imminent demise of Greenland's ice — and a catastrophic rise in sea level. But a paper published online this afternoon by Science reports that two of the largest glaciers have suddenly slowed, bringing the rate of melting last year down to near the previous rate. At one glacier, Kangerdlugssuaq, "average thinning over the glacier during the summer of 2006 declined to near zero, with some apparent thickening in areas on the main trunk."
mexifornia update
Fast-forward nearly five years, and the national climate has radically changed, so much so that the arguments of Mexifornia—close the borders, return to the melting pot, offer earned citizenship to most aliens of long residence in exchange for acceptance of English and American culture—seem tame today, if not passé. In 2002, when I wrote the original City Journal essay, no one thought that the U.S. Congress would vote to erect a wall. Today there is rumbling that the signed legislation entails only 700 miles of fencing instead of spanning the entire 1,950-mile border.

Deportation was once an unimaginable response to the problem of the 11 million here illegally. Now its practicality, rather than its morality, appears the keener point of contention. And the concerted effort by Chicano activists to drive from popular parlance the descriptive term "illegal alien" in favor of the politically correct, but imprecise and often misleading "undocumented worker" has largely failed. Similar efforts to demonize opponents of open borders as "anti-immigrant" or "nativist" have had only a marginal effect in stifling debate, as has the deliberate effort to blur illegal and legal immigration. The old utopian talk of a new borderless zone of dual cultures, spreading on both sides of a disappearing boundary, has given way to a reexamination of NAFTA and its facilitation of greater cross-border flows of goods, services—and illegal aliens and drugs.

So why has the controversy over illegal immigration moved so markedly to the right?

We return always to the question of numbers. While it is true that no one knows exactly how many are here illegally from Mexico and Latin America, both sides in the debate often accept as reasonable estimates of 11 to 12 million illegals—with an additional 500,000 to 1 million arriving per year. Given porous borders, such guesses about the number of illegal aliens in the United States are outdated almost as soon as they are published. It is plausible, then, that there may be an additional 3 to 4 million illegal aliens here who were not here when the City Journal "Mexifornia" piece appeared.

The result of such staggering numbers is that aliens now don't just cluster in the American Southwest but frequently appear at Home Depot parking lots in the Midwest, emergency rooms in New England, and construction sites in the Carolinas, making illegal immigration an American, rather than a mere Californian or Arizonan, concern.
sure, and elvis is still alive, too
Want to do a little light reading while waiting for news about the Baghdad crackdown? If so, I have a likely title for you. It's a new Arabic-language volume, hot off the press, entitled, Saddam Was Not Executed, and according to this account, it spends 365 pages arguing that Iraq hanged a Saddam double. The book, whose thesis was completely predictable to anyone who follows the twisted byways of Arab conspiracism, was reportedly the hottest title at the recent Cairo Book Fair, the premier annual showcase for Arab publishing. Indeed, according to the Al-Arabiya news channel, this febrile work supposedly outsold all the legitimate works available at the fair, from the classic works of Nobel-winning novelist Naguib Mahfouz to the new sexy potboilers.

The author of this instant conspiracy classic is one Anis Al-Daghidi, who is identified as a "journalist." He argues that not only was Saddam not executed; he was never even captured. Indeed, Saddam is alive and well in a safe place, and so are his sons Uday and Qusay. Maybe you think you saw documentary footage of the sons' corpses, but that, claims journalist Al-Daghidi, was just easy American fakery. Of course, if Saddam and his sons are really all alive, and the evidence to the contrary involves doubles and fakes, then it's just a short step to claim that Saddam and his sons are still in power, too, and the whole US invasion was yet more imperial fakery. Maybe journalist Al-Daghidi will argue that in a sequel.

"Journalist" Al-Daghidi has even attracted support from a "scholar." A professor of statistics at Cairo University, one Adil Abdel Qader, has reportedly written in Al-Ahram, of all places, that the likelihood that Saddam's supporters have hidden him away is "mathematically certain."
Aren't conspiracy theories elegant? Any argument against gets dismissed as part of the conspiracy.
However, before we snicker at the gullibility of people in the middle east, consider that very few have experienced life with a free press, so "news" is something passed via the grapevine.
thursday, february 8,
2007
boggles, puggles and labradoodles
How the new breed of "designer dogs" came to be. Great read.
As a dog lover, I'd take a labradoodle in a heartbeat. I just wouldn't fork over $2500.00
al qaeda on the run
Coalition forces in Iraq have delivered a series of stunning blows to al Qaeda in Iraq in the last 48 hours.

A key aide to Abu Ayyub al-Masri, the man who replaced Abu Musab al Zarqawi as the leader of al Qaeda in Iraq, has been captured south of Baghdad. As A.J. Strata notes, the trail to the al Qaeda leader is fresh: the captured aide admitted to meeting with al Masri yesterday.

Since Taji is north of Baghdad, these two al Qaeda IED cell leaders captured by the U.S. in West Taji are not the same as those above. That's four al Qaeda leaders captured.

But four is such a lonely number. A facilitator of foreign fighters was captured by the Iarqi Army on the Syrian border. And foreign fighters tend to mean al Qaeda.

Not to be outdone by the IA, the U.S. struck two houses where foreign fighters had gathered---13 jihadis dead. An "individual" associated with foreign fighter facilitation was in the targeted area.

But wait, that's not all. Coalition Forces conducted an air strike Wednesday targeting an al-Qaida in Iraq-related vehicle-borne improvised explosives devices network near Arab Jabour. Intelligence reports indicated that this network is responsible for a large and devastating number of VBIED attacks in the Baghdad area. They are also responsible for IED and sniper attacks conducted against the Iraqi people and Iraqi and Coalition Forces. Building destroyed, everyone inside presumably dead.

And another terrorist was captured in Taji. In addition to leading a bombing cell, he is also believed to be involved in taking Iraqis hostage and murdering them. Which would mean that he is either al Qaeda or one of the related organizations under the umbrella of the "Islamic State of Iraq".

So, we have 6 al Qaeda leaders captured, and possibly dozens more killed. All in the last 48 hours.
all the news that's fit to print that fits the template
Abu Omar al-Baghdadi made his grand entrance onto the jihadist stage on October 12, 2006, and since then he's delivered two very important speeches — the more recent one came out last week — and has taken credit for much of the spectacular outbreaks of violence in Iraq of late, yet he still can't get his name in print on the pages of the New York Times. Why are the editors and reporters of that paper not telling their readers anything about Iraq's top terrorist?

Abu Omar al-Baghdadi is Al Qaeda's guy in Iraq, and nowadays, the Sunni insurgency is being whittled down to Al Qaeda's activity in Iraq. It's that simple, and he's that important.

So why isn't the Times writing that? I think the answer has something to do with what seems, to my eyes, to be a determined campaign to keep the American people from knowing the nature of the enemy in Iraq because identifying this enemy as Al Qaeda casts the debate about the war in a whole different light.
a simple explanation
Here's a great, easy read for anyone on Global A liberal profesor at the University of Pennsylvania rips apart Al Gore's Green Scare:
The professor hits a button on his computer, and the really long-term view appears — the past 650,000 years. In that time, the Earth's temperature has gone through regular cycles of rise and fall. The best explanation of those cycles was conceived by a Serbian amateur scientist named Milutin Milankovic.

Very basically, Milankovic said this: The Earth's orbit around the sun is more or less circular, but when other planets align in certain ways and their gravitational forces tug at the Earth, the orbit stretches into a more elliptical shape. Combined with the tilt of the Earth on its axis as it spins, that greater or lesser distance from the sun, plus the consequent difference in solar radiation that reaches our planet, is responsible for long-term climate change.

...

NOW TO THE CRUX OF THE Al Gore argument — the idea that rising carbon dioxide levels are causing an increase in temperature.

To determine temperatures and carbon dioxide levels in the distant past, scientists rely on what they call the "proxy record." There weren't thermometers. So researchers drill deep down into the Antarctic ice sheet and the ocean floor and pull up core samples, whose varying chemical elements let them gauge both the CO2 levels and the temperatures of the distant past.

Gieg clicks a button, and three charts come together. The peaks and valleys of the Milankovic cycles for planetary temperature align well with the ocean-floor estimates, and those match closely the records of carbon dioxide concentrations and temperature indications from ice cores. So, the professor maintains, these core samples from the polar ice and ocean floor help show that the Earth's temperature and the levels of carbon dioxide in the atmosphere have been in lockstep for tens of thousands of years.

Of course, that was long before anybody was burning fossil fuels. So Giegengack tells his students they might want to consider that "natural" climatic temperature cycles control carbon dioxide levels, not the other way around. That's the crux of his argument with Gore's view of global warming — he says carbon dioxide doesn't control global temperature, and certainly not in a direct, linear way.
an honest explanation
John Burns of the New York Times offered a frank, complex, powerful and ultimately tragic description of what has happened in Iraq on Tim Russert's CNBC show on February 3.
Russert: John, was it possible for our policy makers to truly understand the way Iraqis would have reacted? The judgments made here were that when we went in we would be greeted as quote, "liberators," to quote Dick, Vice President's Cheney's phrase, that they were prepared, in effect, to take governing into their own hands, that they were so upset and had been so downtrodden by Saddam Hussein that they would embrace democracy and rise up, almost immediately.

Burns: Well first of all, I think, again, to be fair, the American troops were greeted as liberators. We saw it. It lasted very briefly, it was exhausted quickly by the looting and the astonishment and puzzlement and finally anger of Iraqis that nothing, or very little was done to stop that. I think that to be fair to the United States, when I speak as a citizen of the United Kingdom, I think that the instincts that led to much that went wrong were good American instincts: the desire not to have too heavy of a footprint, the desire to empower Iraqis.

But, and I think that the policy makers in Washington, and to be on honest with you the journalists also, to speak for myself, completely miscalculated the impact of 30 years of violent, brutal repression on the Iraqi people and their willingness, in President Bush's phrase, "to stand up" for themselves, to take authority, to take risks. Why did we who, people like Rajiv [Chandrasekaran of the Washington Post] and myself who were there under Saddam, why did we not fully understand that? I think it's because we were extremely limited by the Saddam regime as to where we could go and who we could go and speak to and what we wrote about mostly — certainly I can speak for myself — was what was most palpable and accessible to us which was the terror, it was real.

To that extent, I suppose you'd have to say people like myself enabled what happened, the decisions made here to go into Iraq and I'm not going to apologize for that. I've been to, I think many of the world's nastiest places in a 30 year career as a foreign correspondent for the New York Times and Iraq was, by a long way saving only North Korea, the nastiest place I've ever been. It was a truly terrible place and what I think we were transfixed by was the notion that if you could remove this of carapace of terror and you could liberate the Iraqi people, many good things would happen.

We just didn't understand, and perhaps didn't work hard enough to understand, what lay beneath this carapace which is a deeply fractured society that had always been held together, since the British constructed it, by drawing geometric lines on the map — Winston Churchill and Lawrence of Arabia in the 1920s — a country that had really always been held together by force and varying degrees repression. The King, King Faisal, is remembered, the King who was assassinated in 1958, as a kind of golden era, but even that is really, was not really a parliamentary democracy. It was still basically an autocratic state and I think we needed to understand better the forces that we were going to liberate.

And my guess is that history will say that the forces that we liberated by invading Iraq were so powerful and so uncontrollable that virtually nothing the United States might have done, except to impose its own repressive state with half a million troops, which might have had to last ten years or more, nothing we could have done would have effectively prevented this disintegration that is now occurring.
a different attack machine
...went after three of the Internet's 13 root servers on Monday.
the madness of e-crowds
Thomas Hazlett in Financial Times:
Overhype about the emerging markets is good clean fun when confined to mindless text-messaging. There is an undeniable "wow" factor. But there is also a madness to the e-crowd. Whenever a trend is spotted that captures the fancy of the zeitgeist, it is formulated as a linear trajectory, and shot into orbit. All cross traffic is banned. Call it "asymmetric triumphalism."

When Time trumpets "community" and "collaboration," beware that their next issue may feature their favourite twenty-something online billionaires. When the claim is that "the new Web is a very different thing… bringing together the small contributions of millions," behold the beauty of the long tail – but note, too, the reverse. Proprietary content is growing like a Paris Hilton video gone viral, with firms like Gartner, Forrester, Yankee Group, IDC and McKinsey & Co. charging fat fees for specialised content of keen interest to deep-pocket customers. As an academic researcher, I am continually impressed by the excellent online databases that are (according to the email marketing, sometimes highly accurate) available for $2,995.00. C'mon guys. I'm a scholar. And what happened to "openness" and "community"?

Yes, the dramatic lowering of distribution costs allows information to travel on a budget. That is an oomph for markets, and perhaps a double-oomph for democracy. But there's more. Never have so many, owed so much, for so few user names and passwords.

Our buzz-coloured shades block out key drivers of innovation. Take wireless. While 2.5bn people were subscribing to mobile networks, the tech spotlight was on … WiFi. While a handy way to make a DSL connection cordless, the disruptive technology claims – that the exclusive rights used for wide area cellular networks were now eclipsed by unlicensed spectrum governed by power limits and regulatory standards – were wrong. Not many folks dropping their mobile subscription to talk from their "hotspot."
Read it all.
irresolution
On January 31, the Washington Times ran a front-page story detailing the statements of all the Democrats who had called for more troops to be sent to Iraq before they opposed the surge when Bush came round on this point. But this is just par for the course. They were for the war before they were against it, just as they voted for the $87 billion before they voted against it. That is why, with varied success (Jim Webb and John Kerry), they have tried to round up the few vets they can find to carry their banner, the thought being that a call for retreat sounds better when an ex-fighter issues it, and directs an advance to the rear.

It was thus no surprise that the congressional Democrats attacked Bush for doing the same thing they had once wanted at exactly the moment that he was changing his strategy; lavished praise on his new commander even as they lamented the plan he had written and ignored his warnings that they were helping the enemy; approved him without a single nay vote from any one of their number, and then sent him off with their wishes and blessings, after saying they knew he was on a fool's errand, and cutting him off at the knees. A foolish consistency is not their hobgoblin. But no one can call them great minds.

The one thing on which they are always consistent is their faithful adherence to polls--to the poll of the day and the mood of the moment, the problem being that the day and the moment can change. That's because their eyes are on regaining the White House next year. But the present, intense as it is, is often a poor predictor of what will come next. The great Republican landslide of 1994 was not predictable from a January 1993 standpoint; the Democratic triumph of 2006 was not predictable from a January 2005 standpoint; and the political mood in January 2007 may be a poor prognosticator of the political climate of 2008. Bush was a genius in 2004, and a dupe two years later, just as Clinton was a genius in 1992 and a survivor two years after that.

The 2008 election cannot be predicted, as it depends on too many things that can change without warning; Iraq, Iran, Korea, terror strikes anywhere, unlooked-for wins and losses; challenges and responses no one can imagine, much less strategize on in advance. What looks like smart, or save-your-rear politics in 2007, may look rather different before long. Did we mention this country is not fond of losing? Did we mention that the polls that showed a two-to-one margin against the surge option also showed close to a half-and-half split on its chance of succeeding, and that two in three hoped that it would? Did we mention that by nearly a two to one margin, voters believe that a resolution casting doubt on the president's plans would hurt troop morale and encourage the enemy? Poll-watching surge-bashers might want to keep this in mind.

In the long run, those seen as courting defeat are not thought of fondly. In 1974, triumphant Democrats listened to their base, and to the polls, and to public opinion, and closed down a tedious war against the will of a Republican president. As a result, in the next 30 years they elected exactly two presidents, one in 1976 as a reaction to Watergate (who was called back in disgust a scant four years later), and one in the 1990s, after the Cold War had ended, and in the midst of the "holiday from history," which is not likely to recur. Democrats claim surge proponents are ignoring the lessons of Vietnam, and of history. They might give these some thought for themselves.
wednesday, february 7,
2007
new takes on the "new deal"
Was FDR's grand legacy all that great? Smart people discuss.
those sophisticated french
Well, first they botched their revolution and made the streets run red with blood. When they got out of the way, and wrote their constitution, they neglected to include a First Amendment. Thus citizens can be criminally prosecuted for things they say or write (as was Brigitte Bardot) or easily sued.
Two Muslim groups in France are suing the weekly magazine Charlie-Hebdo over a cover they published last year that the group claims is insulting to Muslims.
Be sure to see the magazine cover that has them stirred up (again).
us playing hardball with iran
Iran is accusing the United States of orchestrating, or at least being responsible for, the abduction of one of its diplomats in Iraq. The incident has given rise to the hilarious spectacle of Iran claiming outrage over a "terrorist act."

Iran on Tuesday accused the U.S. of responsibility for the abduction of an Iranian diplomat snatched from a Baghdad street on Sunday by men wearing Iraqi army uniforms.

The incident, which Iran called a "terrorist act," was the latest escalation in a brewing Cold War between the U.S. and Iran that is increasingly being played out in Iraq, where President Bush has pledged to hunt down Iranian agents suspected of arming Shiite insurgents to attack U.S. forces.

Rather than denying it, I say that we promise to give him back in 444 days. Before that, it will be out of our hands.

Jules Crittenden has written a somewhat more serious analysis.
Iran better hope Jimmy Carter doesn't ride to their rescue.
the breck girl: clinton made me do it
John Edwards has found a solution by shifting blame yet again, and in the process exposing the "Bush lied" meme as a hypocritical dodge. In his Sunday appearance on Meet the Press, Edwards attempted to excuse his vote on the AUMF by blaming Clinton administration officials for confirming the intel coming from the Bush administration.

...

Edwards, having discovered that George Bush cannot run for a third term, needs to find another excuse for his vote to invade Iraq, a vote which his progressive base abhors. He can't just explain it away by saying he was too stupid to see past the web of Bush lies -- after all, he sat on the Senate Select Committee on Intelligence, and had access to the classified information that formed the basis of Bush's case for military action. At the time, he was one of the more vocal Democratic supporters of action.

So now he's blaming members of the Clinton administration for lying to him as well. That's certainly convenient. After all, Hillary Clinton is his biggest competitor for the nomination, and shifting blame to her husband for the Iraq war would suit his needs perfectly. He can now argue that he was no sap -- he checked on the information and got the same answer from the previous Democratic administration.

However, this opens up a completely new problem for Edwards and the rest of the Democrats. They have claimed for at least the last two years that Bush Lied (TM), that the entire basis of the war was based on his deceptions about the intelligence. Their campaigns have created an impetus for impeachment in some Democratic circles based on this supposed set of lies. Now John Edwards, years later, claims that Clinton administration officials gave him essentially the same analysis about WMD in Iraq -- exposing the Democrats as liars and smear artists themselves.
book of fiscal revelation
Politicians are typically late in picking up trends, so it will be interesting to see how long it takes Washington to acknowledge the big story in the Fiscal 2008 budget that President Bush unveiled yesterday: To wit, with a little spending restraint, Congress could balance the budget in no time.

You wouldn't know this from all the garment-rending yesterday in response to Mr. Bush's proposal to spend the not-so-meager sum of $2.9 trillion. Our favorite agonist is Kent Conrad, the Senate Budget Committee Chairman, and he didn't disappoint. "The President's budget is filled with debt and deception, disconnected from reality, and continues to move America in the wrong direction," said the Senator who was himself blocked from sneaking nearly $5 billion in "emergency" farm spending into a military construction bill in the final days of the last Congress. The North Dakotan needs to keep shouting disaster in a crowded political theater so he can justify his desire for a big tax increase.

The news Mr. Conrad won't broadcast is that over the past three years the federal deficit has shrunk by 58%. The Congressional Budget Office--not the White House--is estimating that the current year's deficit (for fiscal 2007) will fall to $172 billion. That's not bad given continuing Katrina relief spending, $30 billion for homeland security, and a couple hundred billion or so to fight the war on terror.
Per Betsy Newmark:
Which president had defense spending as a higher percentage of GDP? Jimmy Carter or George W. Bush?

I was surprised to learn that the answer is Jimmy Carter.

In fact, Mr. Bush's request would only bring defense outlays to 4.2% of GDP, or about 20% of total federal spending. That compares to 4.7% of GDP even under Jimmy Carter, and 6.2% of GDP in 1986 at the peak of the Reagan defense buildup.
oy, gay!
I regard myself as liberal on gay issues. I believe gay people are born gay -- they don't get recruited or choose it as a lifestyle. So I say live and let live (which, strictly speaking, is a conservative position). Speaking selfishly, given the vast contributions of gays to creative endeavors of all kinds, it would be a much more boring world without them.
Which is not to say that I buy the agenda of the gay left.
It must be tough for conservative or moderate gay people in this country to see such shrill voices speaking in their stead. I suspect there are millions who recoil at the sight of gay pride parades and gay political protests, who live quiet contented lives and who count themselves as individuals first, not as members of an identity group.
Which brings us to a Snickers candy bar commercial that ran during the Superbowl. In it, two auto mechanics are working closely under the hood and one stuffs a Snickers bar in his mouth. The other sees the candy bar sticking out and begins nibbling until eventually the two meet and touch lips. Aghast, they're desperate to do something manly, so they each rip off a patch of chest hair. I rated the ad a C, maybe a B-.
But the Gay Left rated it homophobic:
A controversial Snickers bar ad that aired during Sunday's Super Bowl featuring two mechanics accidentally kissing after eating from opposite ends of the chocolate bar was yanked from the air Tuesday after vigorous protests from gay activists and bloggers.

Activists say the ad and the Web site demean male-to-male intimacy by having the two mechanics react violently once they have discovered what they have done and because the ad shows some NFL players reacting to the kiss with disgust.
How dumb. The humor, such as it was, was observational. Heterosexual men have this thing about not touching each other. Seinfeld, certainly no homophobic show, mined this for jokes plenty of times. So the Snickers joke was not about gays at all -- it was about straight men being uncomfortable.
Here is how a truly homophobic Snicker's ad would have gone: a very swish mechanic would observe the other chomping down on Snickers bars. With a glint in his eye, he'd get close and dangle the candy like bait. And when their lips touched, he'd react with an exaggerated swoon.
JB
tuesday, february 6,
2007
nick kristof, tear down this wall!
Tom Maguire has been on top of the Libby trial and the lies Big Baloney, in this case the NYT columnist Nicholas Kristof, has been generating. There's a lot here to ponder.
As to his language usage, Kristof writes that Libby was trying to "discredit" Wilson. Why, I wonder, are Cheney's critics so in love with that word? Why not write that Libby was trying to "refute" Wilson, or "rebut" Wilson?

Let me illustrate: "Ignore Wilson, he has been married seventeen times and is a drunk" would be an attempt to discredit Wilson; "Ignore Wilson, his report was ambiguous and he never saw the documents we later learned were forgeries" would be an attempt to refute him. Clear? I challenge the MSM to make that distinction.

(Note: I am sure Mr. Wilson drinks and marries less frequently than in my illustrative example above, but if it is really bothering you, as an example of "discredit" substitute "Bush's troop surge in Iraq can't work because Bush is a quitter who went AWOL in 1970". Better?!?)

That said, Kristof does seem to want to go in the direction of "discredit", with its implication of personal, ad hominem atttacks. Why did he write this:

Mr. Libby made such a major effort to gather materials from the C.I.A. and State Department about Mr. Wilson...

Mr. Libby made a "major effort" to gather materials about Joe Wilson? Did that "major effort" include a request for Wilson's personell file from State? Did it include a request for Ms. Plame's file from the CIA?

Of course not. Libby approached State and the CIA in an attempt to gather information about Wilson's trip, not about Wilson himself, and I have no doubt Kristof knows this.
german brain drain
Smart people voting with their feet:
Benedikt Thoma recalls the moment he began to think seriously about leaving Germany. It was in 2004, at a New Year's Day reception in nearby Frankfurt, and the guest speaker, a prominent politician, was lamenting the fact that every year thousands of educated Germans turn their backs on their homeland.

"That struck me like a bolt of lightning," said Mr. Thoma, 44, an engineer then running his family's elevator company. "I asked myself, 'Why should I stay here when the future is brighter someplace else?' "

In December, as his work with the company became an intolerable grind because of labor disputes, Mr. Thoma quit and made plans to move to Canada. In its wide-open spaces he hopes to find the future that he says is dwindling at home. As soon as he lands a job, Mr. Thoma, his wife, Petra, and their two teenage sons will join the ranks of Germany's emigrants.

There has been a steady exodus over the years, but it has recently become Topic A in a land already saddled with one of the most rapidly aging and shrinking populations of any Western nation. With evidence that more professionals are leaving now than in past years, politicians and business executives warn about the loss of their country's best and brightest.

...

The trigger for this latest bout of angst was the release last fall of new government statistics showing that 144,800 Germans emigrated in 2005, up from 109,500 in 2001. At the same time, only 128,100 Germans returned, a decline of nearly 50,000 from the year before. That made it the first year in nearly four decades that more people left than came home.

Demographic experts also say the nature of the emigrants is changing. These are not just young unskilled workers like those who fled the economically blighted eastern part of Germany after the country was reunified in 1990 to work in restaurants in Austria or Switzerland.

They are doctors, engineers, architects and scientists — just the sort of highly educated professionals that Germany needs to compete with economic up-and-comers like China and India.

"It's not a problem of numbers as much as brain drain," said Reiner Klingholz, the director of the Berlin Institute for Population and Development. "What we desperately need in the near future are talented and qualified people to replace those who will retire in 15 to 20 years."
antioxidant supplements may be useless or worse
According to some estimates around half the adults in the US take antioxidant pills daily in the belief they promote good health and stave off disease. We have become antioxidant devotees. But are they doing us any good? Evidence gathered over the past few years shows that at best, antioxidant supplements do little or nothing to benefit our health. At worst, they may even have the opposite effect, promoting the very problems they are supposed to stamp out.
death toll
The LA Times now has a murder blog that tracks all homicides reported to the coroner each week. There were 17 for the week of Jan. 20-27.
HT: Patterico
presidential subway series?
In the wake of Rudy becoming a full-fledged Presidential candidate, there's renewed pondering afoot about the possibility of a subway series between Giuliani and Clinton. Not only would it be a battle between "New Yorkers" (to be visualized with duly exaggerated air quotes), but it would be a grudge match for the 2000 Senate race from which Rudy withdrew amid personal and health concerns.

For the time being, we'll table the possibility of a 3-way Big Apple battle, should Mayor Bloomberg decide to write himself a multi-hundred million dollar campaign check and mount an independent campaign (which, for the record, I do expect him to do).

I was chatting with a friend a couple days ago who made the case that Rudy's pre-9/11 record (which accounts for about 96% of his mayoralty) won't bear the weight of a Presidential candidacy and that if he positions himself as a strong anti-terror candidate, the halo effect of the 3+ months of his term that followed 9/11 will simply not prove a big enough campaign quiver.

Bah.

First off, among the locus of living politicians, Rudy may well boast the superlative resume as measured by fighting violent crime, safeguarding his constituents and emergency workers, and (perhaps the best domestic proxy for terrorism) taking on and toppling organized crime. As U.S. Attorney, Rudy indicted the heads of all 5 New York crime families and secured hundreds of years in prison sentences. Under his mayoral watch, the overall crime rate decreased by 57%, while the murder rate fell 65%. By the time he turned the reins over to Mayor Bloomberg, New York had become the safest large city in America...

In Ramallah in 1999, after listening to Yasser Arafat's wife Suha deliver an address in which she accused Israel of poison-gassing Palestinian women and children in Gaza, Hillary rushed the stage with hugs and kisses for the terrorist's bride. Clinton later blamed the impropriety on having received an incomplete translation of Mrs. Arafat's remarks.

Rewind another 4 years to 1995 (i.e. we get our military secrets back from the Chinese, Monica's dress reverts to a gleam in Bubba's eye, etc.) Yasser Arafat was attending a concert at New York's Lincoln Center, uninvited. Mayor Giuliani had Arafat ejected from the premises, saying, "Maybe we should wake people up to the way this terrorist is being romanticized."
shots? we don't need no stinkin' shots!
A guitar-playing pediatrician, who blogs under the name "Flea," reports on the anti-vaccination lunatic fringe. Bet you might know there was such a fringe, but this is America, and we have fringe groups for everything.
Flea has been going to and fro in the earth, and walking up and down in it. He's brought back three articles of faith from the anti-vaccination world.
It's just a hunch of mine, but I'd bet most of the anti-vaccinators have full faith in embryonic stem cell research.
monday, february 5,
2007
"Super Bowl Ads of Cartoonish Violence, Perhaps Reflecting Toll of War"
No commercial that appeared last night during Super Bowl XLI directly addressed Iraq, unlike a patriotic spot for Budweiser beer that ran during the game two years ago. But the ongoing war seemed to linger just below the surface of many of this year's commercials.
Yes, and the Three Stooges smacked each other around because they were reflecting...oh, never mind.
Sometimes Big Baloney is just too dumb to mock.
breathless
Last week's headlines about the United Nations' latest report on global warming were typically breathless, predicting doom and human damnation like the most fervent religious evangelical. Yet the real news in the fourth assessment from the Intergovernmental Panel on Climate Change (IPCC) may be how far it is backpedaling on some key issues. Beware claims that the science of global warming is settled.

The document that caused such a stir was only a short policy report, a summary of the full scientific report due in May. Written mainly by policymakers (not scientists) who have a stake in the issue, the summary was long on dire predictions. The press reported the bullet points, noting that this latest summary pronounced with more than "90% confidence" that humans have been the main drivers of warming since the 1950s, and that higher temperatures and rising sea levels would result.

More pertinent is the underlying scientific report. And according to people who have seen that draft, it contains startling revisions of previous U.N. predictions. For example, the Center for Science and Public Policy has just released an illuminating analysis written by Lord Christopher Monckton, a one-time adviser to Margaret Thatcher who has become a voice of sanity on global warming.

Take rising sea levels. In its 2001 report, the U.N.'s best high-end estimate of the rise in sea levels by 2100 was three feet. Lord Monckton notes that the upcoming report's high-end best estimate is 17 inches, or half the previous prediction. Similarly, the new report shows that the 2001 assessment had overestimated the human influence on climate change since the Industrial Revolution by at least one-third.
Read it all.
turning black coal green
Big lumps of sooty coal hardly seem like the future of energy, but that's exactly what the U.S. Department of Energy predicts. Consumption of the fossil fuel—the main source of greenhouse gas and a major contributor to acid rain, smog and mercury poisoning—will hit 10.6 billion tons a year by 2030, a near doubling of the 5.4 billion tons burned in 2003, according to the agency.

But coal's growing dominance need not spell doom for the environment, says Mike Mudd, a former manager of technology development at American Electric Power (AEP), one of the country's biggest utilities. Mudd is now CEO of FutureGen, a $1-billion project sponsored by the DOE in partnership with 11 leading energy companies to build the first near-zero-emission coal plant by 2012. The 275-megawatt facility will serve as the model for a new generation of high-tech coal facilities.

Coal contains anywhere from 25 to 90 percent carbon, which combines with oxygen when burned to release energy. This process emits a host of noxious chemicals, such as carbon dioxide, sulfur, nitrogen oxide and mercury. Yet carbon in coal can also be used to strip oxygen from water, producing clean-burning hydrogen gas. FutureGen will liberate hydrogen by heating finely ground coal in a high-pressure, pure-oxygen environment, a process known as gasification and a turbine will burn the resulting hydrogen gas to produce electricity. As for emissions, the plant will pump the CO2 underground while the other pollutants are converted to an inert solid and buried.
Sounds good, but including CO2 as a "noxious chemical" makes me feel guilty for exhaling.
harry reid makes trump look like an apprentice
Harry Reid's skill at making money in real estate makes Donald Trump look like an apprentice. If he ever writes his autobiography, it should be called "The Art of the Shady Deal."

If you accept Harry Reid's explanation that his most recent land deal is on the square, then he has a bridge to sell you. No, not that bridge. Another bridge built over the Colorado River a few miles from property in northern Arizona he bought at about $167 an acre. He doesn't own that bridge, either.

But he has sold land he did not own at the time he sold it before.

In 2002, Reid paid $10,000 to a pension controlled by longtime friend and Las Vegas lubricants dealer Clair Haycock. In return, Reid got full control over the fund's portion of a 160-acre parcel in Bullhead City, Ariz., a 37.5% share. Reid and Haycock jointly owned the entire parcel for more than20 years.

As the Los Angeles Times reports, "Reid's price for the equivalent of 60 acres of undeveloped desert was less than one-tenth the value the assessor placed on it at the time." According to the Times, "If Reid were to sell the property for any of the various estimates of its value, his gain on the $10,000 investment could range from $50,000 to $290,000."
will superbowl XLI spell end to tokenism?
The NFL has a rule that requires teams to interview one minority candidate for head coaching positions. In 2003, the Detroit Lions decided Steve Mariucci was their man and everyone knew it. They invited five black candidates, but all refused to interview because they knew Mariucci was the inevitable choice. So the Lions were fined $300,000.
For what it's worth, Tony Dungy was hired under similar circumstances. When Tampa Bay fired Dungy and hired Chucky the Evil Doll in his stead, Colts owner Jim Irsay knew he wanted Dungy and no one else.
Now that two black head coaches have met in the Superbowl and Dungy's team won, will the NFL end its humiliating policy of forcing black coaches to become token job candidates?
Some argue that six black head coaches, out of 32 NFL teams, isn't enough, given that 70% of the league's players are black. One could ask why black athletes are so overrepresented in the NFL. And the obvious answer is that NFL teams are aggressive capitalist enterprises seeking the best talent in order to win and sell more tickets. If the best athletes are black, the teams don't care. Self-interest trumps race.
And so it will be with coaches.
ongoing journalistic malpractice
One might have hoped that, two weeks into the Libby trial, the basic facts of the case would be clear to the reporters and editors at the Washington Post.

One would be wrong.

Here is an utter howler from their Sunday effort:

Plame's employment at the CIA was classified, making it illegal for any official to knowingly and intentionally disclose it. Special Counsel Patrick J. Fitzgerald's 22-month investigation did not produce charges of that offense.

Special Counsel Fitzgerald has asserted that Ms. Plame's status was classified and we have no cause to doubt him. However, the Intelligence Identities Protection Act requires more than that - my goodness, was it two years ago that Victoria Toensing and Bruce Sanford addressed these specifics on the very pages of the Washington Post? Briefly, in addition to having classified status a "covert" agent must have served outside the United States within the previous five years; the US must be taking active steps to conceal the agent's identity; and the discloser must be aware of the agent's status.
sunday, february 4,
2007
too crazy to live
A ruling by Switzerland's highest court released Friday has opened up the possibility that people with serious mental illnesses could be helped by doctors to take their own lives.

Switzerland already allows physician-assisted suicide for terminally ill patients under certain circumstances. The Federal Tribunal's decision puts mental illnesses on the same level as physical ones.

"It must be recognized that an incurable, permanent, serious mental disorder can cause similar suffering as a physical (disorder), making life appear unbearable to the patient in the long term," the ruling said.
What about being ugly, stupid or irritating as reasons for pulling the plug?
Via Maggie's Farm
something pleasant for sunday
Whether you plan to watch the BIG GAME or not, the Ashes and Snow website is worth spending some quality time. Photographer Gregory Colbert takes hauntingly beautiful images of people interacting with animals. These are real images (the bird is really flying past the boy), not Photoshopped composites.
His travelling exhibit, which he calls the Nomadic Museum, was in Santa Monica last year where we saw it. It opens in Japan next month.
While not the same as seeing the exhibit in person, the website does a good job. The basic site lets you navigate linearly through sample images. The enhanced site is more exploratory. You may find yourself hitting the audio mute button after the same phrase gets repeated.
Otherwise, grab a cup of coffee or wine and spend 20 minutes or so.
racial games
The news last summer rippled out of Westwood and shook L.A.'s African-American community into action.

The University of California, Los Angeles - the public university that educated Los Angeles' first black mayor, pro baseball's first black player and the Nobel Prize's first black recipient - had an incoming freshman class of just 96 African-Americans.

The city's black leaders pounced.

Three months later, UCLA Acting Chancellor Norman Abrams introduced a new admissions policy, a "holistic approach" that would consider applications in their entirety rather than as separate sections. He said that would benefit black applicants without violating the 9-year-old state law that prohibits universities from considering an applicant's race.
Holistic in this instance means fraud. If your object is to increase black enrollment, while operating under a law that forbids it, that's fraud.
With phone calls and outrage buzzing through the black community, response was immediate and unified. The Alliance for Equal Opportunity in Education - activists, politicians, ministers and UCLA students and alumni - got the university's attention, and then that of the Board of Regents and the University of California president.

The victory was a catalyst for a new coalition of leaders who had replaced veterans of the civil-rights movement and were willing to set aside individual success to achieve it quicker collectively.

"Without egos, without who is going to get credit, it is about doing the work," said Charisse Bremond Weaver, president and CEO of Brotherhood Crusade. "That is the paradigm for this new leadership."

The alliance, which has met weekly since June, has since expanded its focus to problems in K-12 education that make black college applicants less competitive.
Focusing on K-12 education is the only key, unless you believe black students cannot achieve equal results. Rigging the entrance requirements makes no sense. Would you fly an airline that fudges standards for pilots to achieve racial goals?
The story goes on to describe the efforts of black leaders in greater LA.
A lot of these organizations have been around for a long time, and people don't see them as being a current organization for whatever their issues and problems may be."

This disconnect is particularly noticeable in the San Fernando Valley, local leaders said, where the black community, dispersed among a population of nearly 2 million, lacks an epicenter.

"That hill makes a big difference. It's a little hill, but it makes a big difference," said the Rev. Zedar Broadous, former president of the NAACP's Valley chapter. "Many of the leaders tend not to be educated about making a good connection with the San Fernando Valley African-American community."
Maybe that's because black people do not identify as much by race as they once did. In which case, the 2 million blacks living in the San Fernando area might just regard themselves as people, not members of a racial group.
That would be success.
who's to blame
Much of their killing -- the murder of innocent Shiites in their mosques and markets -- is bereft of politics. It is meant to satisfy instead an atavistic hatred of the Shiite heresy. The late al-Qaeda leader in Iraq, Abu Musab al-Zarqawi, was even chided by headquarters in Afghanistan for his relish in killing Shiites for the sport of it.

Iraqis were given their freedom, and yet many have chosen civil war. Among all these religious prejudices, ancient wounds, social resentments and tribal antagonisms, who gets the blame for the rivers of blood? You can always count on some to find the blame in America. "We did not give them a republic," insists Newsweek's Fareed Zakaria. "We gave them a civil war."

Of all the accounts of the current situation, this is by far the most stupid. And the most pernicious. Did Britain "give" India the Hindu-Muslim war of 1947-48 that killed a million souls and ethnically cleansed 12 million more? The Jewish-Arab wars in Palestine? The tribal wars of post-colonial Uganda?

We gave them a civil war? Why? Because we failed to prevent it? Do the police in America have on their hands the blood of the 16,000 murders they failed to prevent last year?

Thousands of brave American soldiers have died trying to counter, put down and prevent civil strife. They fight Sunni insurgents in Fallujah, Ramadi and Baghdad, trying to keep them from sending yet one more suicide bomber into a crowded Shiite market. They hunt Shiite death squads in Baghdad to keep them from rounding up random Sunnis and torturing them to death. Just this week, we lost two helicopter pilots who were supporting the troops on the ground fighting the "Soldiers of Heaven" outside Najaf to prevent the slaughter of innocents in a Shiite-Shiite war within a war.

...

We have made a lot of mistakes in Iraq. But when Arabs kill Arabs and Shiites kill Shiites and Sunnis kill all in a spasm of violence that is blind and furious and has roots in hatreds born long before America was even a republic, to place the blame on the one player, the one country, the one military that has done more than any other to try to separate the combatants and bring conciliation is simply perverse.

It infantilizes Arabs. It demonizes Americans. It willfully overlooks the plainest of facts: Iraq is their country. We midwifed their freedom. They chose civil war.
saturday, february 3,
2007
bullish on bush
On a day when the GDP report came in strong and the Federal Reserve proclaimed a balanced economy marked by healthy growth and contained prices, President George W. Bush became only the second sitting American president to visit the floor of the New York Stock Exchange. As he moved from trading post to trading post, floor brokers and assistants stopped their work and started to cheer.

Huge cheers. Loud applause.

This is the same guy the mainstream media loves to kick around -- the same guy who suffers sinking polls while standing resolute on the subject of Iraqi freedom, and who gets virtually no credit for the Goldilocks economy and unprecedented four-year stock market boom. He's also the same guy who continues to prove he has more character than most anyone serving in public office today.

The last time Bush was in downtown New York was just after September 11, 2001. Back then, everything was devastated, including the NYSE and the U.S. economy. But this week the president returned to a much different scene: Huge cheers. Loud applause. A stock market that continues to set record highs. An economic recovery that defies media pessimism and doomsday Democratic carping.
get a grip, precious
The following was posted in the comments section of a NYT story about handwriting:
As a poet I know how words can occur to me with a pen in my hand, how the act of writing itself can bring a perspective that may otherwise be frightened off by the intervention of a machine. It's a little like the difference between having a direct realtionship with the universe, or with God, or having to go through "an expert" or a priest.
A perspective frightened off by a machine?
cancel the hysteria
The historical average for tax revenues as a percentage of GDP for the last 45 years—roughly, the span of the modern taxation era—is 18.2%; in 2006, the government collected 18.4% of GDP as tax revenues. Even if you throw out the Bush budgets of 2002-2006, the average rises only a tenth of a percent, meaning that America is still above its historical average. The same holds true for budget deficits. The historical average is 1.6% with the Bush years, 1.5% without, making last year's 1.8% budget deficit look less than outlandishly out of line.

The interesting thing is that no one knows these happy facts. Democrats are still harping on budget deficits as if (a cynic would say "because") they were a gigantic mess, rather than a shrinking problem. This is not an excuse for running deficits, of course; there is no reason that a prosperous nation should be borrowing money to run its government when the economy is booming. But America's budget deficit is small enough that it is now unlikely to be having any sort of measurable effect on the economy, and inflation and economic growth will quickly erode the value of recently accumulated debt. Mr Bush may leave a large number of problematic legacies for future generations, but the revenue shortfalls of recent years will not be noticed among them.
cloudy vision
Two headlines from yesterday's LA Times:
No Stopping Climate Shift, UN Study Says
The article included climate predictions for the next couple of centuries.
Wet Winter Forecast Has Come Up Dry
The story explained that weather experts' forecast for the immediate three months is totally wrong.
return of the breck girl
Now that John Edwards has thrown his hat back into the race, it's worth revisiting this video from campaign 2004.
First came the embarassing video of Edwards fussing with his hair like a girlie-girl. Then someone came up with Bush, in a similar setting, being, well... Bush. They hoped to embarass him.
Then someone put the two together. It's still funny.
hypocrite
Hillary Clinton yesterday at the DNC white flag competition:
"And let me add one other thing, and I want to be very clear about this," she said. "If I had been president in October of 2002, I would not have started this war.
Why not? Hillary at the time was sure that Saddam:
had chemical and biological weapons

missile capability

a nuclear program

was giving aid, comfort and sanctuary to terrorists including al Qaeda members.
Click the thumbnail to watch the video.


friday, february 2,
2007
al franken finally says something funny
...he wants to be a US senator. Rim shot!
it's official, we're doomed
...say the Green Scare mongers with their UN report:
...global warning is "very likely" man-made and would bring higher temperatures and a steady rise in sea levels for centuries to come regardless of how much the world slows or reduces its greenhouse gas emissions.
Well, then, live it up, right? No, of course not, you sinner.
That liberalism is a secular religion has been apparent for years. Witness how Harvard President Larry Summers was run out of town for raising, as a debating point, the notion that men and women are wired differently and thus might explain differences in outcomes in the hard sciences. For this heresy, he was excommunicated and fired.
Michael Crichton gave a great speech "Environmentalism as Religion" that is required reading for reasonable people. Today, J.R. Dunn has a great piece in the American Thinker called "A Necessary Apocalypse."
Read it and send a copy to your liberal friends because it is sure to annoy them. A taste:
When religious belief is subverted, it does not, as Chesterton implied, simply vanish. It is almost immediately replaced by another set of beliefs on a similar level of abstraction and serving the same purpose. Sometimes it's an import, such as Buddhism or TM. Sometimes it's a creed deliberately created to serve a political agenda, as we see in Nazism and Communism. Sometimes it's the goofy SoCal syncretism currently expressed in Wicca and Neopaganism. ("If people seriously want to be pagans," the late Joe Myers, a Christian brother of my acquaintance once said. "They'd become Roman Catholics.") And sometimes they're a combination, a weird melange of ideas picked up from various sources that (and usually not coincidentally) also serve a political purpose. Which brings us to environmentalism.

That environmentalism is in fact a pseudo-religion goes without saying. Like all such, it possesses every element of contemporary legitimate belief. It has a deity, in this case the goddess Gaia, the personification of the living Earth, (first envisioned by James Lovelock, whom we can slot in as high priest). It has its holy books, most changing with the seasons, and most, as is true of the Bible with many convinced Christians, utterly unread. It has its saints, its prophets, its commandments, religious rituals (be sure to recycle that bottle), a large gallery of sins, mortal and otherwise, and an even larger horde of devils. (Let me pause here to sharpen a horn.)

Another item that a pseudo-religion must have is an apocalypse - and that's what global warming is all about.

In fact, the apocalyptic is the major fulcrum of environmentalism, the axis around which everything else turns. It's environmentalism's major element of concern, its chief attraction, and the center of discussion and speculation, in much the same way that some Protestant variants of Christianity are obsessed above all with sin. So crucial is the apocalypse to environmentalism that there has been a whole string of them, one after the other, covering every last aspect of the natural world. If one don't git ya, the next one will. Green emphasis on the apocalyptic appeared early, accompanying the introduction of mass environmental awareness itself. Silent Spring, published in 1962, represents the first environmentalist scripture -- nothing other than a modern book of Revelations. Rachel Carson, a popular nature writer, was dying of cancer while writing the book, and Silent Spring became an outlet for her rage and grief. Carson predicted the imminent coming of a stricken world, a world poisoned by the synthetic products of the chemical industry, in which no birds sang and human children would not be immune. The early 60s were marked by fears of the consequences of atmospheric nuclear tests, and the suggestion that chemicals were just as deadly found a willing audience.
One might reasonably argue that some religious people are environmentalists, too. It's true, but they participate more as as acolytes than prophets.
cold fannies
How do penguins keep from freezing their asses off? Low rectal temperatures and a healthy snooze. How we do know that? Scientists with bulb thermometers.
your next organ: made in china
China's military is harvesting organs from unwilling live prison inmates, mostly Falun Gong practitioners, for transplants on a large scale — including to foreign recipients — according to a study.
No one will dispute their freshness.
does the koran approve of pasta?
Let's hope so, because according to an Italian imam, "the majority Catholic country" will become an Islamic state." Of course, they will have that in common with Spain once the Iberian peninsula is returned to its rightful owners.
you're all emitters! you'll all burn in hell
Al Gore as Elmer Gantry. Very funny mock movie poster.
"victory is a subordinate clause"
IraqPundit stings with his wit:
I have a confession to make. When I first heard that Iraqi and US forces had won a big battle over the weekend against heavily armed killers – the Soldiers of Heaven cult – who were plotting the mass murder of civilians, I actually thought that was pretty good news. And when it turned out that the Iraqis and the US forces had forestalled not only a massacre of Shiite pilgrims on the occasion of Ashura, but also the assassination of their religious leaders (including Grand Ayatollah Sistani), I thought: "Wow, what a disaster that would have been. It's really a good thing to have stopped that."

Hell, I even let myself think that the death of hundreds of these would-be killers, coming in the wake of the crackdown on Sunni extremists in Baghdad and Anbar, and in advance of the anticipated move against Shiite militias in Sadr City, might be part of a series of welcome developments.

What a goose I was! Having since studied the press interpretations of this battle, I know better. Good news is an illusion, and victory is a subordinate clause.

Look, for example, at this treatment of the battle from the Associated Press: "The fierce 24-hour battle was ultimately won by Iraqi troops supported by U.S. and British jets and American ground forces, but the ability of a splinter group little known in Iraq to rally hundreds of heavily armed fighters was a reminder of the potential for chaos and havoc emerging seemingly out of nowhere."

I learned here that the real value of this battle is not the bludgeoning of the Soldiers of Heaven cult by an Iraqi-US force, but that it's a "reminder of the potential for chaos." Of course, given the existing level of chaos, I had thought that no one needed such a reminder. But thanks to the AP, I now realize that even such a redundant "reminder" as this trumps military success.

The New York Times approached the battle in much the same way. In one account, the paper gets the subordinate matter of a US-Iraqi victory out of the way so that it can move on to more pressing issues. Here's how the NYT put it: "The Iraqis and Americans eventually prevailed in the battle. But the Iraqi security forces' miscalculations about the group's strength and intentions raised troubling questions about their ability to recognize and deal with a threat."

What I learned here is how "troubling" this victory really was, because of Iraqi miscalculation. I had previously thought that, given the outcome of the battle, the far greater miscalculation had been committed by the would-be murderers, who lay dead on the battlefield by the hundreds. But the NYT straightened me out: The more dead enemies you leave on the battlefield, the more troubling questions you must face as a result.
thursday, february 1,
2007
more hot air on climate science
Rep. Henry Waxman is just the latest pol to charge that the Bush administration is censoring scientists regarding climate change. Best of the Web shreds the "study" that led to the latest round of bitching.
...only about 17% of the scientists who received the survey actually filled it out and returned it. There is no reason to think this is a representative sample of the total population, and it seems reasonable to surmise that people who would go to the trouble of completing such a survey are more likely than those who wouldn't to perceive themselves as under political pressure--i.e., to agree with the UCS.

To put it much more simply, this was an unscientific survey. If this is how these guys do social science, how can we trust them with the hard stuff?
iowahawk is dumpster diving again
I wrote about the trend on the Left to paint 9/11 as no big deal. Shortly after that post, the LA Times ran an op-ed by one David Bell.
Iowahawk is brilliant again, as he claims to have found Bell's first draft in a dumpster behind the Encino Galleria.
Okay, certainly, if we look at nothing but the objectives of our "enemies," I suppose it is hard to see any indication of an overreaction. The people who attacked us in 2001 are, admittedly, hate-filled fanatics who would like nothing better than to destroy this country. But let's face it, so are the Boalt Hall law school faculty, and nobody is seriously talking about a pre-emptive strike on Berkeley. Desire is not the same thing as capacity, and although professors can certainly do huge amounts of harm around the world, very few of us have access to chemical weapons or Volvo gun turrets; effective containment of any threat is usually a simple matter of inexpensive research grants, tenure, and campus parking privileges.

Yet a great many Americans, particularly on the right, have failed to apply this important historical distinction to our current "War on Terror." For them, so-called "Islamo-fascists" have inherited not just Adolf Hitler's implacable hatreds but his capacity to destroy. Neocon lunatics like Norman Podhoretz have gone so far as to say that we are fighting "World War IV." Excuse me Norm, but last time I checked, the UN says Iran is at least three years away from a workable holocaust strategy, let alone a Persian version of the Volkswagen.

...

No disrespect to the victims of 9/11 or to the men and women of our armed forces, but by the standards of past wars, 3000 yuppie bond traders and a couple of high-rise developments is basically geopolitical chump change. Okay, so the widdle Jihadis want to level an occasional Manhattan office building, let the baby have his bottle. As the big star on the international stage, the United States needs to show it is secure enough to take a few zingers from the B-list comedians at the annual global Friars Club Roast. When we nuked Hiroshima, did the Japanese whine and bitch and send their armies to invade us out of spite? No, they made a couple of Godzilla movies, got over it, and moved on to making transistor radios and Toyotas. In the history biz, we call this "making lemons into lemonade."
Read it all.
the ugly american
Sen. John Kerry, the 2004 Democratic candidate for president, is at it again with another rude gaffe, this one providing an unintended glimpse of the way many contemporary cosmopolitan elites characterize their homeland when abroad.

In the past, Kerry has said that our soldiers were "terrorizing" Iraqi civilians in their homes. He has also warned that uneducated Americans "get stuck in Iraq" -- a supposedly botched joke. Now, he assures an audience at the World Economic Forum in Davos, Switzerland, that the United States is a "sort of international pariah."

Kerry, who appeared on stage in Davos this past weekend with former Iranian President Mohammad Khatami, also proclaimed, "When we walk away from global warming, Kyoto, when we are irresponsibly slow in moving toward AIDS in Africa, when we don't advance and live up to our own rhetoric and standards, we set a terrible message of duplicity and hypocrisy."

Kerry could learn a few simple rules of etiquette that should guide the "message" of all high American officials when abroad:

Tell the Whole Truth Without Posturing or Spinning

Kerry was clearly directing his criticism at the Bush administration, but the Kyoto Protocol, the international climate treaty, was first rejected by the U.S. in 1997. Ten years ago, President Clinton wisely chose not to refer the treaty to the Senate. Even that was not enough for outraged senators, who went ahead anyway to vote 95-0 to oppose any international agreement on climate control like Kyoto in which China, India and other developing countries would remain exempt. Kerry himself cast one of these votes -- an ironic example of what Kerry now calls "duplicity and hypocrisy."

Nor was the United States "irresponsibly slow" in regard to African AIDS relief. In fact, the Bush administration has devoted $4 billion annually to combat AIDS in Africa. That's triple what the Clinton administration budgeted. That generosity deserves praise, not scorn.
understanding the enemy
The media enemy, that is. Powerline exposes the nasty attitudes of one William Arkin, who used to write for the LA Times, but who now writes on "national and homeland security" for the Washington Post. Arkin has a few words for the American military:
These soldiers should be grateful that the American public, which by all polls overwhelmingly disapproves of the Iraq war and the President's handling of it, do still offer their support to them, and their respect.

Through every Abu Ghraib and Haditha, through every rape and murder, the American public has indulged those in uniform, accepting that the incidents were the product of bad apples or even of some administration or command order.
It gets worse. Can someone with such deep seated bias cover the subject fairly?
Hugh Hewitt wrote about Arkin in 2003.
meanwhile, the lewis libby trial
...exposes the sloppy journalistic standards at Time magazine.
The key story "A War on Wilson?" coauthored by Matt [Cooper --a prosecution witness] begins:

"Has the Bush Administration declared war on a former ambassador who conducted a fact-finding mission to probe possible Iraqi interest in African uranium? Perhaps."

This war as it turns out existed only in Matt's mind. Unless you consider efforts to respond to inquiries about Wilson's claims with the truth to be war or to be as Cooper does "dissing" or "disparaging" Wilson. It seems Libby engaged in perfectly appropriate conduct such as noting all the elements of Wilson's claim were false (Something the bi-partisan Senate Select Intelligence Committee confirmed):Wilson was not sent at the "behest of the vice president; he did not refute, but rather supported, the existing intelligence that Iraq was seeking uranium in Niger; his report never made it to the vice president.
In fact, the only "war" that existed was upstart CIA operatives seeking to undermine policies enacted by the nation's elected President. For a refresher, read Zell Miller's piece here.

This is a site selling art-quality photographs of roses.
These are suitable for framing, as they say, and work nicely in home or office. Some favorites include this yellow rose photograph with a single drop of milk, this photograph of a white rose half-submerged in chocolate or this Cherry Parfait rose photographed in closeup and given a heavenly glow.